300,000 attendees in Duterte victory celebration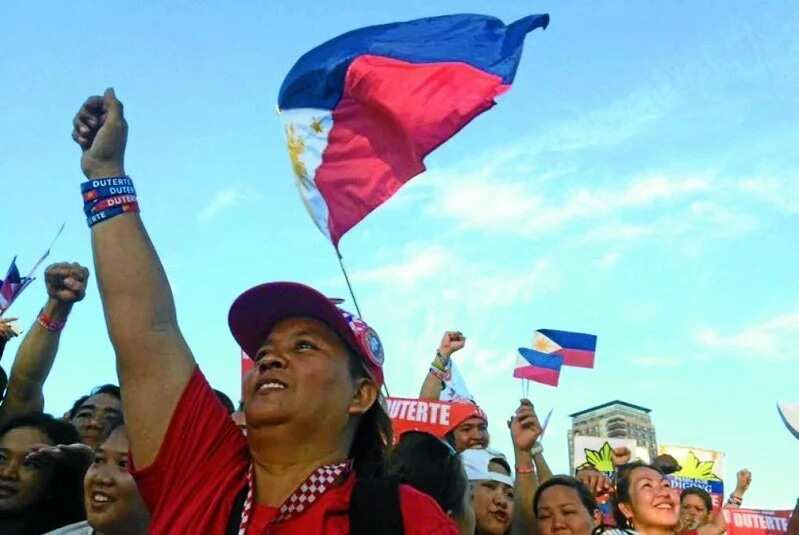 TRIUMPHANT. A crowd of over 300,000 attendees attend Duterte's victory celebration in Davao Crocodile Park today in a show of force and solidarity for their chosen president, Rodrigo Duterte.
Police chief Insp. Milgrace Driz, spokesperson for the Davao police, is happy with the security and safety precautions of the event, saying it was "very successful".
"More or less estimated natin ay 180,000 na ang andito based on the land area na na-occupy nila," said Driz in describing the massive attendance. The crowed boomed to 300,000 from previously reported 180,000 in just two hours. For comparison, Davao Crocodile Park is 100 hectares. 50 hectares are alloted for the celebration. Police say that around 25 hectares have been filled.
No illegal drugs or firearms have been found, only people armed with umbrellas and pens which have been confiscated. Attendees are subjected to three frisk points. Hidden police agents in civilian attire have also been deployed. Driz has advised civilians to bring transaparent baggage to make it easier for police to identify their belongings.
Driz has reminded people to be vigilant for anything and observe safety rules. No incidents of pickpocketing have been reported.
READ ALSO: 
Source: KAMI.com.gh