Robredo: I am not afraid of anything
Incoming Vice President Maria Leonara "Leni" Robredo admitted that she has no reason to fear the new administration of the iron-fisted, crime-busting, and controversial President-elect Rodrigo Duterte.
"Wala, wala. Wala, wala. I am not afraid of anything," Robredo said on Thursday when she was asked whether she is afraid of Duterte.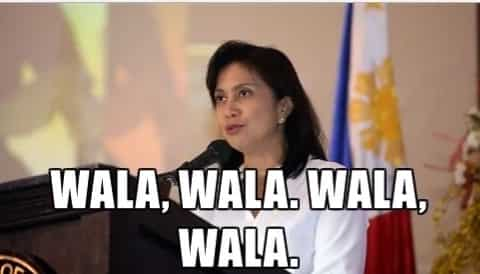 The Davao City mayor is known for his harsh and changing statements, disrespectful pronouncements, and ill-treating women.
She said, "If there was one lesson I learned from all the experiences I have gone through, (that is) kung ano ang nakalaan para sa iyo, iyun ang ibibigay."
Since the president-elect is being grilled for his recent statements regarding media killing and actions offending GMA-7 reporter Mariz Umali, incoming vice president Robredo was asked about her reaction.
"I don't want him to misinterpret my reactions. I continue to extend my hand in friendship. That's what the country needs so we can collaborate. Our differences in opinions won't affect my offer of support to him," Robredo said.
Duterte has not yet offered her a cabinet post.
"He said nothing, but I was not aspiring for any post. I think he has made it clear naman that he does not intend to make any offer, which is just fine," Robredo said.
Incoming vice president Maria Leonora "Leni" Robredo reassured the Filipinos of her support for president-elect Rodrigo "Digong" Duterte notwithstanding heavy and numerous criticisms the latter has been receiving from the public.
Leni Robredo said that she is secured that the Duterte will uphold the rule of law because of his previous repeated pronouncements.
"I continue to be reassured by the president-elect's repeated assertions that he will uphold rule of law, as well as by his strong record of promoting women's rights during his service as Davao City mayor," Robredo said.
However, the vice president-elect emphasized "the need for constant vigilance and circumspection, to avoid raising any unnecessary concern, particularly over issues as sensitive as the murder of journalists and the treatment of women in our society."
Source: KAMI.com.gh