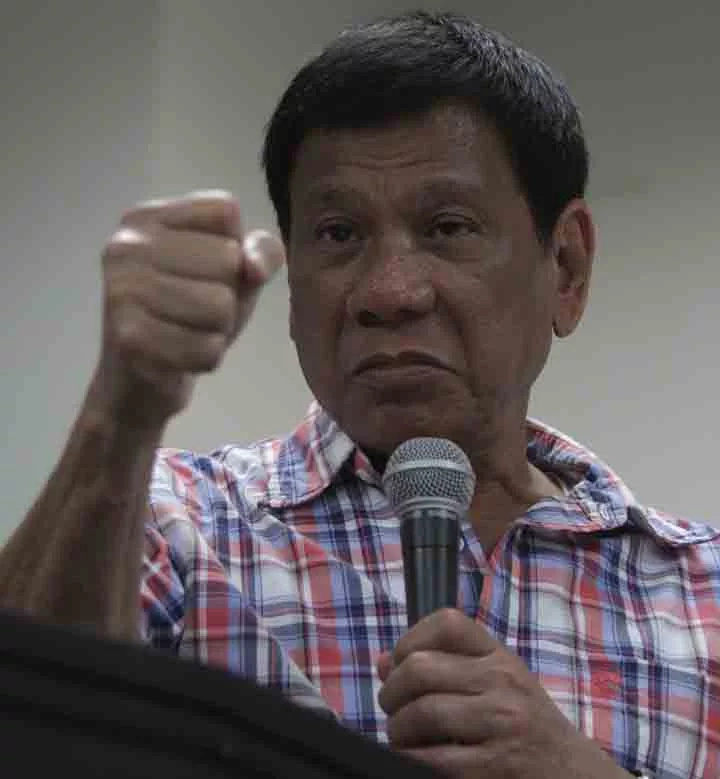 Not finished with recent spews of profanity which included cursing at the free press, President- elect Rodrigo Duterte continues his cussing, now directed against the United Nations. He criticized heavily the United Nations for being to weak to fix the problems in Africa and the Middle East.
READ ALSO: Karen Davila reacts to Duterte's comments on journalist killings
This was a frustrated response he gave when asked to comment on how foreign newspapers were critical of him. No one brought up the international body to question, and it's unclear where Duterte got the idea that the foreign press' criticisms of him were somehow linked to the United Nations.
"That's the trouble here, they're always raising fears about this or that United Nations convention. Fuck you UN, you can't even solve the Middle East carnage… couldn't even lift a finger in Africa… shut up all of you," said Duterte, confusing spectators.
Duterte has been the ire of foreign journalists when he remarked that corrupt journalists were legitimate targets of assassination. A preview of how Duterte handles vocal journalists is his example of a vocal journalist against him. President-elect Duterte said that he deserved to die. Despite all of Duterte's rants against corrupt journalists, he has yet to show who are currently "corrupt" in the journalism sector right now. With vague statements on journalism recently, for Duterte, the line between vocal journalists and corrupt journalists is blurred. They are one and the same, meaning they are legitimate targets of assassination, regardless of the veracity of a journalist's reports.
Incoming Foreign Secretary Perfecto Yasay defended Duterte, saying that these should not be taken seriously as indicators of official policy. Leni Robredo directly responded to this by saying, "It is a testament to the power and prestige of the Presidency that each statement and each action of our leader is taken as an indicator of official policy."
READ ALSO: Robredo to public: help Duterte "broaden his views"
As one of the most dangerous places for journalists, the Philippines has 174 journalists murdered since Ferdinand Marcos was deposed from the Palace. Davao, for one, has one of the highest unresolved murders. In 2008, the then-UN special rapporteur on extrajudicial killings, Philip Alston, highlighted concerns about unsolved murders in Davao.
"A death squad operates in Davao City, with men routinely killing street children and others in broad daylight," said Alston in the report. Human rights groups have accused Duterte of links to over 1,000 unresolved murders.
Confusingly, while Duterte vehemently denies links to the murders, he vocally expresses hatred against criminals whom he promises to unleash his wrath on. His main campaign pledge that swore him into office was his promise to end crime within three to six months.
Statistically, 73 percent of the 1,121 inmates on death row in 2006 earned less than P10,000 every month while 81 percent had low-income jobs. 71 percent of death penalty sentences handed down by courts are incorrectly imposed. Thus, human rights lawyer Jose Manuel Diokno has been critical of Duterte's plans, saying that it is anti-poor.
While death penalty has been offered by Duterte as quick fix solution against crime, death does not solve the underlying problems of poverty and social immobility, which are the main factors that drive even well-off people into a life of crime. Duterte plans to continue a majority of the economic policies of the Aquino administration, while also introducing some social reform of his own such as promising to increase SSS pensions. Aquino's neoliberal economic policies have been criticized for only benefiting the rich or powerful. If the incoming Duterte administration plans to continue Aquino's policies, then Duterte will undergo the same criticisms as his predecessor. Amid widening inequality,  if Duterte continue plotting Aquino's economic policies, then he would slowly be proving human rights group correct that his death penalty policy is anti-poor.
Source: Kami.com.ph