NUJP debunks Duterte: It's govt duty to protect journalists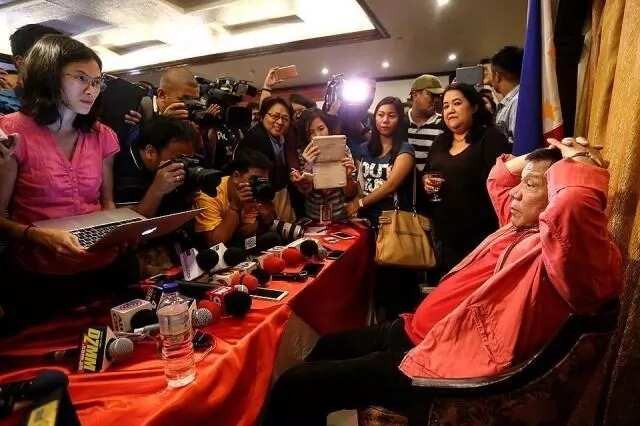 An official of the National Union of Journalists of the Philippines (NUJP) debunked President-elect Rodrigo Duterte's statement that he cannot protect all journalists, even claiming that most of them are legitimate targets of assassination.
Speaking at a news conference on Saturday, May 4, NUJP secretary general Dabet Panelo said that as the next President of the country, it is Duterte's responsibility to make sure that citizens, including journalists, are safe and secure especially from violent attacks in the performance of their duties.
"It is the responsibility of the government to protect its citizens, whether you are a journalist or whoever you are," Panelo said. "The government has the responsibility to protect the rights of the people which are under our laws."
Panelo acknowledge that a journalist's job is prone to danger given how some issues are sensitive or controversial. However, this does not mean that media practitioners are asking for a close-in security when they do their job.
"Sa NUJP nagtuturo tayo ng how to be safe while doing our reports. Meron tayong mga workshop na ganyan because we know that we have stories that are very sensitive or controversial. We might put ourselves into trouble," she said.
Reacting to the widespread criticism that his remarks have caused, Duterte justified his statements by likening the journalists to soldiers in the line of duty.
"In journalism, if you the speak truth firmly, of course, you invite danger," Duterte said in a press conference on Thursday.
Duterte responded to the calls from Reporters Without Borders for the media to boycott his news conferences until he apologizes, and said that he will boycott the media instead.
"I'm urging you; make this trip your last in Davao City. I do not care if no one is covering me. Do not threaten me, I said I'm ready to lose the presidency, my honor or my life. Just do not fuck with me," he said.
According to his executive aide Cristopher Go, Duterte will not hold press conferences in the mean time to avoid mistakes as his group claims that the President-elect has often been misquoted in the media.
Duterte instead will use the state-owned television network to disseminate announcements.
Source: KAMI.com.gh