See how netizens reacted to Charice's men's mag cover
The decision of men's fashion magazine MEGA Man to have international singing sensation Charice Pempengco on its cover drew mixed reactions from netizens.
For the June issue of MEGA Man fashion magazine, Charice can be seen sporting a denim jacket with her tattoo on his right arm slightly showing.
The phrase "PRIDE ROCKS" is visibly seen on the lower right side of the picture highlighting the fact that Charice is the first lesbian to be featured in a men's fashion magazine in the Philippines.
The said issue still came as a surprise to many people – some were pleasantly surprised and celebrated its importance to the future of the LGBT community, while others chose to criticize the magazine's choice to have a transman on its cover.
One commenter even raised that Charice is not a biological male. "Man talaga? eh wala naman t*ti yan kaloka hahaha!," a post by ohohkiehl read.
Another surmised that it is a bad publicity stunt. "@renanpacson you're using her bec she used to be popular, what if the tables were different. I bet you wouldn't even notice but you make money out of her so yeah, goodbye. #megadestruction," a post by tictactoe1974 read.
Others were more positive in their reception of this controversial magazine cover.
Instagram user @tataganda_bon commented: "Wow, bold move Megaman. But a step towards the right direction of equality and awareness for the LGBT community. Proud of you. [fistbump icon]"
In another social media platform, @JayDeSisto tweeted: "@OfficialCharice @alyssa_quijano GREAT ARTICLE I cried with you 3 yrs ago whn you hurt. I cry now because ur happy❤."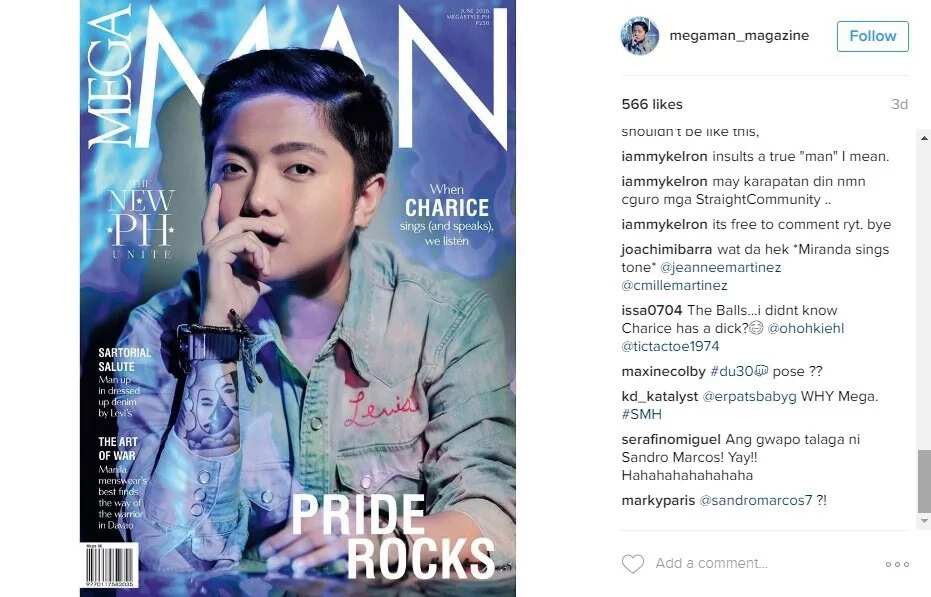 In its Instagram post, MEGA Man stated that "Charice speaks her truth and we come to know and understand on the most personal level yet."
MEGA Man expressed that the move to have a lesbian for this month's issue is worth taking.
"In a move that can only be described as bold and daring, we tread unprecedented waters with headline-making international singing sensation Charice on the cover of MEGA Man.
"By most accounts, this has never been done before and whatever way the pendulum will swing, this was a move worth taking," the post read.
"Whatever the case or realization may be, there is one thing we are sure of—we couldn't be prouder of this decision than we already are," MEGA Man magazine added.
It's been three years since Charice came out in 2013, much to the surprise of everyone who took pride in her role as Sunshine Corazon in the hit American TV series Glee.
In an interview with CNN Philippines' Leading Women, he revealed: "I thought about killing myself, like teenagers do. Pero I didn't do it. And look where I am right now. I get to be with the person I love. Yun ang result ng hindi pag-give up sa sarili mo."
Charice is now in a relationship with fellow singer Alyssa Quijano.
Source: KAMI.com.gh