Harry Roque, incoming Kabayan party list representative, said that incoming president Rodrigo "Digong" Duterte's statement on media killing which can be deemed as endorsing the murder of journalists is 'the ultimate form of censorship'.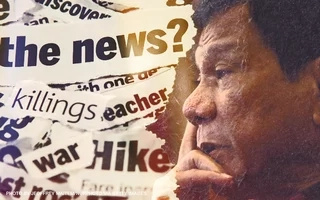 "I take strong exception to the statement of President-elect Duterte that journalists who were victims of extrajudicial killings were killed because they were corrupt. These journalists were killed by people who are scared of the truth. Moreover, alleged corruption by members of the press does not make them legitimate targets of assassination," said Roque.
Harry Roque was also the private prosecutor of the victims of the Maguindanao massacre.
Roque suggested that the administration of Duterte should fight authoritatively against the strong forces that continued to hinder freedom of expression and freedom of the press in the Philippines and not endorse nor justify the killings of journalists, even the corrupt ones.
He said that once the Congress starts its new session, he would move for the enactment of the bills protecting the media and freedom of information.
Earlier, President-elect Duterte challenged the journalists to boycott reporting about him and tells them that they 'think of themselves too much'.
"As a matter of fact, I'm challenging you guys. Kill journalism. Stop journalism in the country. If you're worth your salt, you should accept the challenge. Pagka hindi, mababa na ang tingin ko sa inyo. Para kayong takot," said Duterte.
Duterte clarified that he did not mean to say 'country', but he meant to stop coverage in Davao City, as an answer to the boycott call by the Reporters Without Borders, which was agitated by Duterte's statement saying that media practitioners get killed because they are engaged in corruption.
"I cannot stop you. If you do not want to come here, to boycott me, kill journalism here. Kung ayaw na ninyo magpunta, eh di wala na journalism. How can I kill journalism?"
"Ibig kong sabihin, 'Wag ka na,' (What I meant was, you do not) If you want, you can kill journalism here. Then, I will rely on the government [media]. Because that is the threat. P***** i**," Duterte said.
RELATED: PH President-elect Duterte curses UN
Source: Kami.com.ph