President-elect Rodrigo "Digong" Duterte defended on Thursday his controversial catcall at a female reporter during a press conference, calling his action as "freedom of expression."
"Whistling is not a sexual thing... That is a freedom of expression," Duterte told the press on Thursday evening.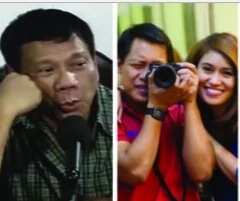 Duterte added that he did not find catcalling at a woman as a violation of the Women Development Code of Davao City, also known as Davao City Ordinance No. 5004, which he signed as the mayor of Davao City.
"That is binastos, if you go overboard and you start to harass a woman... I said if you cajole with a woman… You cannot stop anybody from whistling. But I would say, who gave you the right to presume I was whistling because I saw you?" Duterte explained.
The Women Development Code of Davao City describes the following as sexual harassment of women: "Cursing, whistling, or calling a woman in public with words having dirty connotations or implications which tend to ridicule, humiliate, or embarrass the woman such as 'puta (prostitute),' 'boring,' 'peste (pest),' etc."
The president-elect has received backlash from the public and the online community after whistling at GMA News reporter Mariz Umali as he received a question from the female reporter. He also broke into a song after the female reporter pressed him for an answer.
Umali described Duterte's actions as improper while her husband and fellow journalist, Raffy Tima, called out the incident as "wrong on so many levels." Tima also criticized the people in the room who laughed and indirectly urged the president-elect to tease the female reporter even more.
"When you see or hear anyone say something wrong you do not encourage it, you do the opposite," Tima added. He explained that the people in the room should have kept quiet to show Duterte that his actions were inappropriate.
RELATED: KBP refuses Duterte boycott
Source: Kami.com.ph