As blessings continue to pour in for Rita Gaviola , the 13-year old "Badjao Girl" expressed her belief that it was Allah who changed her and her family's life for the better.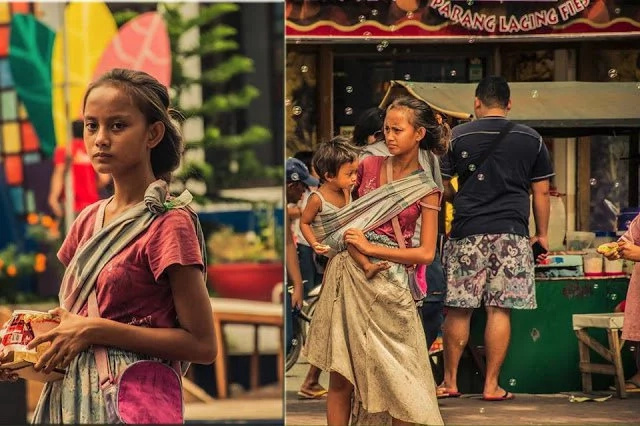 "I thank Allah for all these blessings," Gaviola said.  The Badjao girl also thanked Topher Quinto Burgos for taking pictures of her which led to her sudden popularity.
"If not for his photos, all of these would not have happened," she said. Burgos took photos of Gaviola while she was begging for coins on the streets of Quezon province during the Pahiyas Festival in May.
He then shared the photos on his Facebook account where the pictures quickly became a viral sensation. The netizens admired the Badjao girl's natural beauty and poise. Burgos' photos of Gaviola begging for money also helped raise awareness on the difficulties faced by her fellow Badjao.
Due to her immense popularity, the Badjao girl has been receiving valuable gifts such as clothes, school supplies, money and education scholarship from admirers and corporate sponsors.
"She's very thankful. Her dream of helping her family is now being fulfilled," said Evelyn Jane Ana, a neighbor of the Gaviola family in Lucena City.
Lucena City Mayor Roderick Alcala also helped the Gaviola family by giving the girl's father, Danny, a general services office job at the city government. "Danny promised that he will no longer allow any member of his family to return to the streets to beg," Alcala said.
The city government is also planning to provide a house for the Gaviola family while the Bureau of Fisheries and Aquatic Resources is planning to give fishing gears and necessary tools and materials for building boats to some of the Badjao families.
As for the Badjao girl, the education scholarships she has received brings her one step closer to her dream of becoming a teacher in order to help children learn and achieve a good future.
RELATED: 12 most adorable celebrity babies you have to see!
Source: Kami.com.ph