Kissed by the Pope – a miraculous recovery of a sick infant
It all started with a kiss, just like any good story goes.
Gianna Masciantonio, hailing from Philadelphia, USA, was just two months old when she was diagnosed with juvenila xanthogranuloma, a rare form of histiocytosis, or a tumor in her brain stem. Doctors advised her family that she had slim chances of surviving, since the disease was inoperable.
Despite her rare condition, Gianna still went through brain surgeries and chemotherapy sessions. However, things changed after her first birthday celebration, when her family got a call from Federal Bureau of Investigation agent Don Asper. The agent was kind enough to give them special passes to welcome Pope Francis on his visit to their state last year.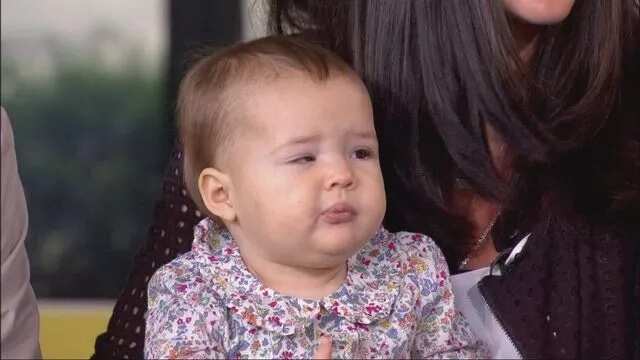 Gianna was one of the lucky children who had personally interacted with the Pope, and got a kiss on her forehead, which was near her tumor.
Two months after the incident, the latest result of Magnetic Resonance Imaging revealed that her tumor, in which chemotherapy treatments were ineffective, was disappearing. Her health has remarkably improved as well, much to her family's delight.
Pope Francis was alerted of Gianna's condition, and admitted that he was unaware of her disease.  He gave the family a signed portrait of him kissing the 'little angel', and the image was sent to them on Wednesday, June 1.
Her father, Joey Masciantonio, does not believe that the Pope healed his daughter, but feels very positive about the experience. "It gave us hope. It gave us strength. It gave other people strength. That kiss meant more to my family than anyone could ever imagine," he said.
Source: KAMI.com.gh