Shabu factory exposed in PDEA raid
A house on Don Vicente Street in Villa Dolores Subdivision, Barangay Santo Domingo, Angeles, Pampanga was raided on Tuesday morning by anti-narcotics agents and city cops, and approximately P1.1 billion worth of liquid methamphetamine was seized.
The house was allegedly used as a meth laboratory and was found to have 45 gallons of the illegal drug. The raid – led by the Philippine Drug Enforcement Agency (PDEA) – was approved by the court and was conducted at 9 a.m., PDEA chief Gladys Rosales said.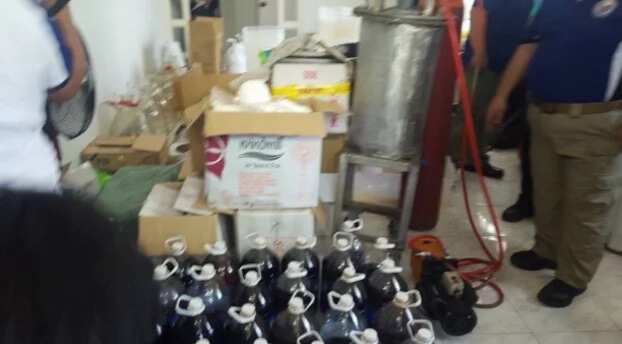 According to the authorities, the house is owned by a lawyer who leased the property to a man known only as Chang. Five suspects, including three Taiwanese, are now being hunted by the police. The house was also rented by an unnamed actor in the past, police said.
Rosales added that the seized liquid methamphetamine was only one step away from being completely processed into methamphetamine hydrochloride – also known as shabu. Neighbors complained to authorities about the house when the stench of the chemical reached their own houses.
This was the second shabu lab found in Angeles this year. The first one – a house on Clover Street in Timog Subdivision – was seized on March 16, where 10 to 15 kilograms of shabu was manufactured daily. Authorities also seized from the house 99 sacks of sodium hydroxide, 19 sacks of an unknown chemical, 15 pails of ammonia, ethanol, iodine, red phosphorus, cupric sulphate, and various lab equipment.
Shabu addiction can cause both physical and mental health symptoms that can cause great damage to a person's overall health and well-being. The mental side effects of shabu addiction include anxiety, panic, aggression, depression, delusion, violence, hallucinations, memory loss and psychosis.
The physical symptoms of shabu addiction include weight loss, irregular heart rate, increased sex drive, brain damage, cardiac arrest, cardiac arrhythmias, stroke, malnutrition, breathing problems, acne, scars, liver disease and a weakened immune system.
RELATED: Duterte: P3M reward for drug lords, dead or alive
Source: KAMI.com.gh