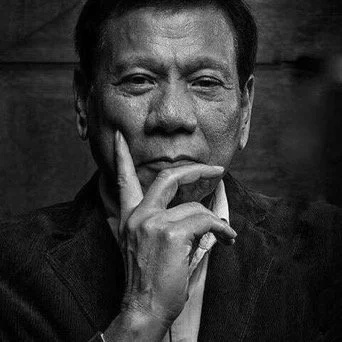 Photo credit: Screen grab from Twitter @TheMayorDuterte.">
When presidentiable Rodrigo Duterte was asked at a campaign sortie in Bukidnon province to expound on how he will deliver his promise to wipe out criminality in 6 months, the Davao city mayor said: "Secret, secret", news.abs-cbn.com reports.
"Umalis lang muna sila diyan (Let them leave) and I will take over and I'll show them how to do it," said Duterte. The latter also added that he is better than his opponent and President Aquino's endorsed candidate, Mar Roxas, in terms of cracking down on criminality in the country. Duterte claims that Roxas is a weak leader as proven by his ineffectiveness during his time as secretary of the Department of Transportation and Communications (DOTC) and chief of Department of Interior and Local Government (DILG).
"Kung ako si Roxas, naging presidente, 50 years, walang ma-achieve," Duterte said. ("If Roxas becomes president, he will not achieve anything in 50 years".)
Duterte, also known as "Digong", is considered by some as "the Punisher" due to his zero-tolerance policies against criminals. His detractors, however, dispute the success of his policy by pointing out to a recent Philippine National Police (PNP) report which reveals Davao city as the fourth city with the highest number of index crimes from 2010 to 2015.
Duterte is quick to brush this off by saying that the DILG, which supervises the PNP, earlier awarded the city a certificate of good governance, which is proof of his success in clamping down on criminality in the city and his turf's peaceful state.
Source: Kami.com.ph