Pope Francis honors George Clooney, Richard Gere, and Salma Hayek
The Catholic Church's Pope Francis honored Hollywood stars George Clooney, Richard Gere, and Salma Hayek for their work to fight climate change, war, and terrorism.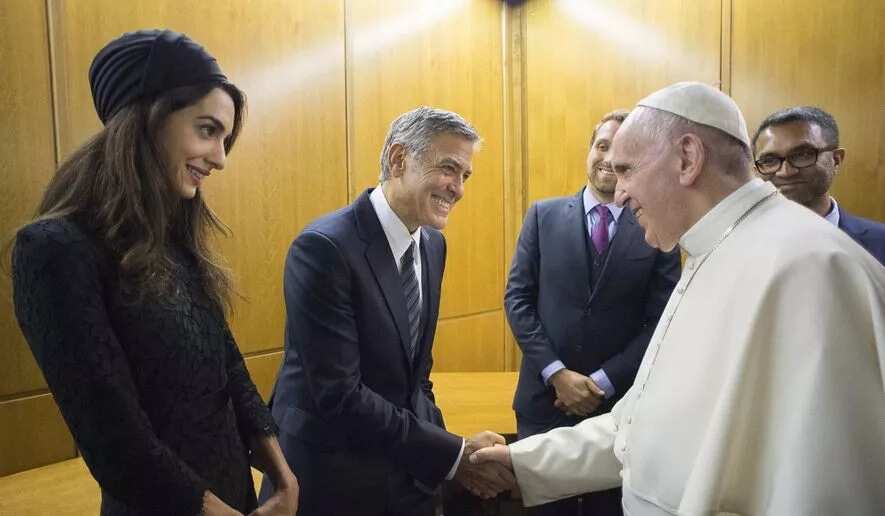 On May 29, Sunday, Pope Francis awarded the Hollywood A-listers with the "Medal of the Olive" by Scholas Occurentes Pontifical, an international education foundation run by the Vatican that seeks to integrate art, technology, and culture.
"When peoples, families, friends separate, only animosity and even hatred can come out of that division," said Pope Francis. "But when they come together in a 'social friendship,' we find a defense against every kind of throwaway culture."
According to the Catholic media agency Crux, the popular pontiff kept the movie stars waiting for more than 90 minutes.
He arrived late to the award ceremony after meeting with a dozen internationally famous YouTubers, including Dulce Candy and Matthew Patrick.
Pope Francis answered questions from the Internet stars about what they can do to create a more diverse and understanding virtual community.
He cautioned against pride. arrogance, and bullying online.
"Bullying is an aggression that hides a lot of cruelty," said Pope Francis. "The world is cruel. And wars are a monument to that cruelty."
The celebrity meet-and-greets came at the end of the VI Scholas World Encounter, which drew more than 400 people from 190 countries at the Vatican from May 27 to 29.
Source: KAMI.com.gh