China to reconcile with PH
Chinese President Xi Jinping has told incoming Philippine President Rodrigo Duterte that he hopes to get the relationship between their respective countries back on track.
"(I) hope both sides can work hard to push Sino-Philippine relations back onto a healthy development track," Xi tells Duterte in a statement shared by the Chinese Foreign Ministry.
"The friendly, stable and healthy development of Sino-Philippine relations accords with the basic interests of both countries and both peoples," Xi added.
The president of China also sent a message to Duterte to congratulate him on his landslide victory in the recent 2016 Presidential election in the Philippines.
The ties between China and the Philippines have become sour due to the increasing tension over a territorial dispute in the South China Sea – which is a major trading route rich in natural resources such as gas, oil and mineral reserves. Along with China and the Philippines, Brunei, Malaysia, Taiwan and Vietnam are also involved in the territorial dispute.
The international tribunal in Hague is set to announce its ruling over the next few months about the territorial dispute case filed by the Philippine government in 2013 – which seeks to clarify the maritime laws of the United Nations that could potentially weaken China's claims of owning 90 percent of the South China Sea.
Duterte has said in an earlier interview that he will prioritize proper negotiations and communication with China to resolve their territorial issues instead of trying to go war with the country.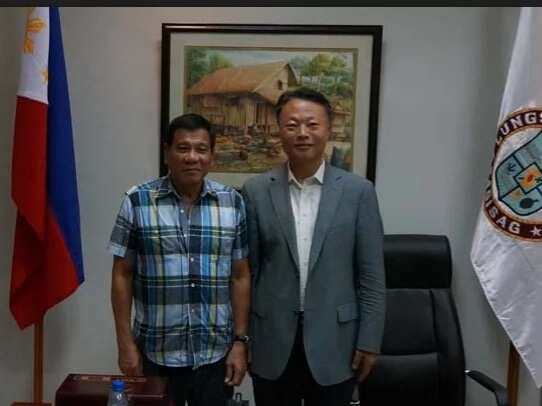 The incoming Philippine President has also expressed his interest in getting financial help from China to build a railway system in Luzon and Mindanao. However, Duterte clarified that getting assistance from China does not mean conceding the Philippines' South China Sea claim.
"Just because you're building me the railway doesn't mean to say that I am abandoning the Scarborough Shoal," Duterte said.
Chinese Ambassador Zhao Jianhua is also positive about China's relationship with the Philippines under the incoming administration of Duterte. "The Chinese side is looking forward to working with him and his team," Zhao said.
RELATED: PH welcomes G-7 declaration, amidst dispute with China
Source: KAMI.com.gh