Four-way race to Senate presidency heats up
The battle for the Senate leadership in the 17th Congress rages on as top contenders continue to woo as many senators as they can to support their side.
The leading contenders for the Senate presidency include Senate Majority Leader Alan Peter Cayetano, Sen. Vicente Sotto III, Sen. Aquilino "Koko" Pimentel III and current Senate President Franklin Drilon.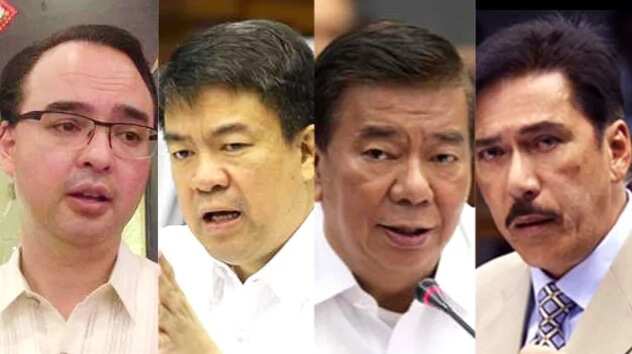 Sen. Cayetano – who lost to Leni Robredo in the recent vice-presidential election – revealed on Monday that he has the support of approximately 15 senators for his bid for the Senate presidency. But despite his estimates, Cayetano is still unsure of winning the Senate leadership post.
Cayetano added that if he is elected as the new Senate president, he might stay in the position for more than a year only due to the plan of incoming President and running mate Rodrigo Duterte to give the senator a Cabinet post.
Fellow Senate president contender Sen. Sotto said that he was already in the process of obtaining the support of 17 senators to form a new Senate majority which will include Sen. Pimentel.
However, Pimentel said that he is still in the running for the Senate leader post along with Senators Cayetano, Sotto and Drilon.
Sotto informed the Inquirer through a text message that he will only entertain the idea of yielding the Senate presidency post if he agrees with the vision and principles of the other contender.
On the other hand, Sen. Drilon – who was re-elected as a senator in the recent May election – said that he is willing to give up the Senate leadership post on July 25 to whoever gets the support and signatures of at least 13 senators. If none of the other contenders gets the votes of at least 13 senators, Drilon will remain as the Senate president for the next Congress.
RELATED: DEBATE: Should late President Marcos be buried in the Heroes' Cemetery?
Source: KAMI.com.gh