Camp Crame's Walls Vandalized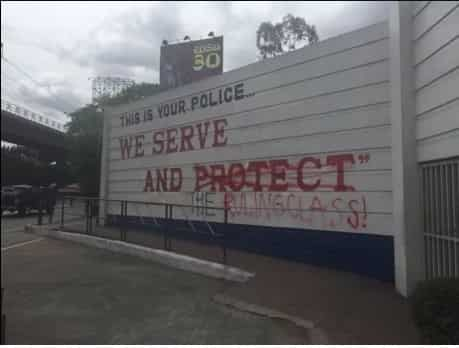 Campo Crame's walls were defaced last April 2, 2016 after several rallies by various groups on the Kidapawan incident.
Members of militant groups staged a rally outside Camp Crame, seeking justice for the farmers who died and suffered injuries from Friday's bloody clash with policemen.
The protesters carried placards with the words "Hustiya sa magsasaka, hindi bala!" and "LP - Literal na pumapatay."
Using spray paints, they vandalized the walls outside the PNP headquarters, saying the police force only protects "the ruling class."
The farmers in Kidapawan City were protesting the alleged lack of assistance from the local government. They were demanding the release of 15,000 sacks of rice subsidy after they lost their crops due to the worsening El Niño in the province.  
photo from twitter.com
Source: KAMI.com.gh