It isn't unusual for people to try and hide their flaws. In fact, they are always finding means and ways to conceal that one pimple or edit the pores out of a close-up picture. For four brothers in CamSur, however, hiding their pores is an effortless, albeit uncomfortable condition.
In Sangay, Camarines Sur, the Plazo brothers - Adrian Paul, Kiervy, Evan, and Hansferd - seems to have a very strange condition - they do not have any pores!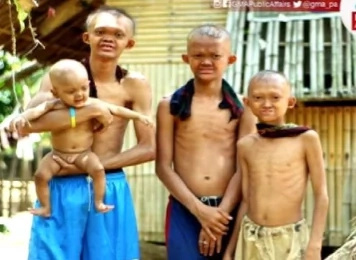 According to the parents, the mother's pregnancies with all four children were normal and perfectly fine. Conclusions pointed the blame to genes as some relatives from the mother's side have showed similar conditions. The children's great grandmother and her sister seemed to have gone through the same thing.
Due to poverty, the family never got the chance to bring the boys to a specialist. GMA's "Kapuso Mo, Jessica Soho", however, brought them to a dermatologist in Naga named Dr. Maria Asuncion Prieto Quimlat to learn more about the brothers' condition.
According to Dr. Quimlat the siblings' condition is called Anhidrotic Ectodermal Dysplasia, a condition in which a person does not have the capacity to sweat. There hasn't been a treatment found for this condition and can only be passed down through bloodline.
The brothers' condition has also affected their physical appearances - causing deformation in the face, hairless eyebrows, and thinning hair. Nevertheless, it seems that they do not care much about the physical effects of their condition, but instead in their health.
Because they are unable to sweat, it is hard for them to feel cool. To cool down, the brothers wash their hair and body, play around carrying a wet towel, or soak in a lake. The parents also take turns to fan the brothers and their father has to work extra hard in order to provide for all of them.
Despite the condition, all four siblings have learned to live with their condition. They have learned to adapt to the extra heat but the one thing they can't afford to lose is the extra love they receive from their parents.
RELATED: You can now cure your hangover the South Korean way; here's how
Source: Kami.com.ph