Miriam Quiambao, ipinakita ang hirap at sakit na dinanas sa pag breastfeed
- Miriam Quiambao shared that while suffering from mastitis, her eldest child Elijah accidentally elbowed her breast
- This caused one of her breasts to become engorged, warm, sore and tender
- She experienced excruciating pain when she had her baby Ziki breastfeed on the affected breast to drain it of milk
- The celebrity mom decided to take a photo of her wincing and crying as a reminder of her painful experience
Miriam Quiambao showed on Instagram how difficult it is to be a breastfeeding mother.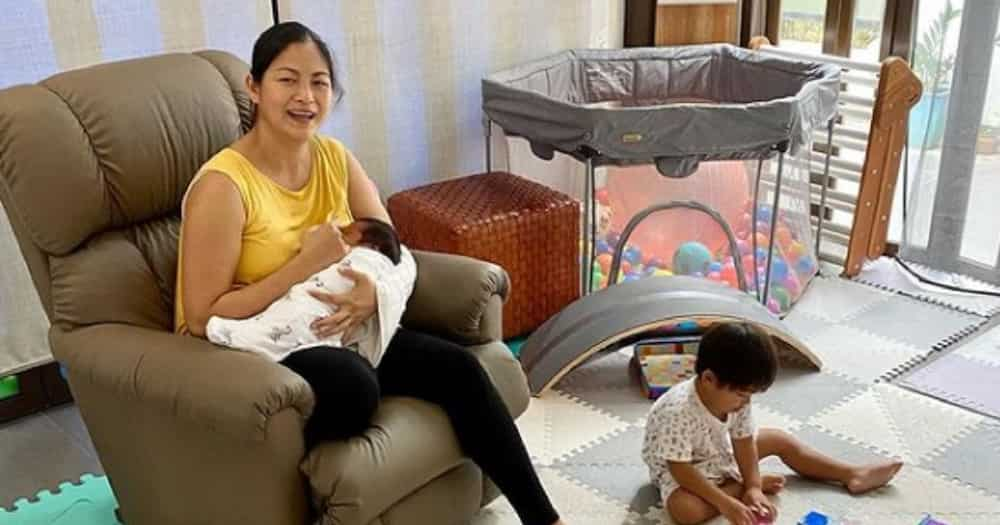 KAMI learned that while Miriam was suffering from mastitis, her eldest child Elijah accidentally elbowed her breast which caused it to become engorged, warm, sore and tender.
Mastitis is a condition wherein the breast becomes inflamed due to infection caused by either a blocked milk duct or bacteria entering the breast through a crack in the skin of the nipple or through a milk duct opening, according to Mayo Clinic.
Her doctor advised her to take a paracetamol and to quadruple her intake of advanced omega pills to lessen the swelling.
The most painful part was when she had her baby Ziki breastfeed on the affected breast to drain it of milk. Miriam decided to take a photo of her wincing and crying as a reminder of her painful experience.
Lastly, the former beauty queen said that she gets her strength to push through from her faith in God. She is now feeling a lot better.
"I was suffering from mastitis and I was making Baby Ziki suck on the affected breast to drain the blocked duct.
"Earlier that afternoon, Elijah was snuggling against me and accidentally elbowed my breast. By early evening, my breast was engorged, warm, sore and tender and by 9pm I was starting to feel feverish.
"Getting the baby to drain my breast was SUPER PAINFUL that I really winced in pain and teared up at some point but it had to be done. Took this photo as a reminder of that night. By God's grace, now, I feel much better," Miriam posted on Instagram.
Miriam Quiambao is a former beauty queen in the Philippines. She became famous when she represented the country in the 1999 Miss Universe pageant. She and Ardy Robert tied the knot in Tagaytay. Ardy has an adopted son named Joshua from his marriage with Tingting, his late wife.
Last July, Miriam gave birth to her second child, Ezekiel Isiah Ziki. She considered Ziki a miracle baby because she did not expect to become pregnant at age 46.
The celebrity mom also shared her scary experience with her eldest child, Elijah, who suffered from a high fever. It lasted for three nights and three days and her son didn't even want to take medicine even when mixed with his favorite juice. She then said that on the fourth day, the fever broke and it was only then that she knew that he had "tigdas hangin."
Source: KAMI.com.gh