PH welcomes G-7 declaration, amidst dispute with China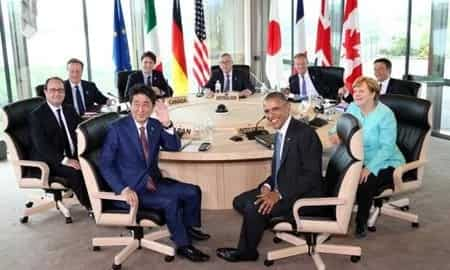 Malacañang welcomed the joint declaration of the Group of Seven (G-7) voicing its collective concern over the sea disputes involving China and its neighboring countries, and urged all parties to work towards a peaceful resolution in accordance with international law.
"Adherence to the rule of law as embodied in the United Nations Convention on the Law of the Sea has always been the linchpin of Philippine policy," Presidential Communications Secretary Herminio Coloma Jr. said in a statement he read on state-run radio on Sunday.
Coloma said President Aquino pursued a rules-based, peaceful and diplomatic resolution to the dispute with China over territory in the South China Sea.
He added that the Aquino administration's stand had gained support from the international community.
The Group of seven is a group of the seven major advanced economies as reported by the International Monetary Fund, and aims to coordinate their policies towards achieving common goals and the establishment of technical means of cooperation.
The G-7 includes Canada, France, Germany, Italy, Japan, the United Kingdom, and the United States. The European Union is also represented within the group.
In a declaration issued after a summit in Japan on May 27, the G-7 urged claimants in the territories in East China and West Philippine sea to refrain from "unilateral actions that could increase tensions" and avoid the use of "force or coercion in trying to drive their claims."
The declaration also emphasized that judicial means, "including arbitration," should be utilized.
Though there was no specific mention of any country, the contents of the declaration can be interpreted to be directed towards China, which is involved in territorial disputes with Japan in East China Sea and is in a legal battle against the Philippines over territories in the West Philippine Sea.
The call from the powerful G-7 came ahead of a ruling expected within weeks on Philippines' case against China lodged at the United Nations Permanent Court of Arbitration in The Hague. China continues to refuse to participate in the arbitration and does not recognize the international court as having jurisdiction over the case, despite an earlier ruling of the court stating otherwise.
READ ALSO: China to explain its side on Spratlys dispute
Source: KAMI.com.gh