#Fistfight: Kiko Matos dares Baron Geisler
Indie movie actor Kiko Matos has challenged actor Baron Geisler on Sunday, May 29, to a face-to-face fight. He also told Geisler to stop using social media to deal with their conflict with each other.
"Baron Geisler ang dami mong sinasabi (Baron Geisler you talk too much). Face me, don't Facebook me," Matos said.
Matos and Geisler were caught in a viral video having a physical and verbal altercation with each other inside a bar.
"Tumayo ako tapos sinabi ko sa sarili ko subukan nga natin tapang ni Baron Geisler… Alam ko, aminado ako na ako nakipag-shake hands pero gusto ko lang naman turuan ng leksyon si Baron eh. Di naman kasi niya pwedeng alam mo yon umasta na siya may ari nung lugar," Matos added.
(I stood up and told myself to check how brave Baron Geisler really is… I admit that I was the one who offered to shake hands but I only wanted to teach Baron a lesson. He cannot continue to act as if he owns the place.)
Geisler explained his side of the story in the same interview via phone call, blaming Matos for the incident. Geisler said that he tried to keep his cool during the altercation but eventually lost his cool because Matos kept on heckling him.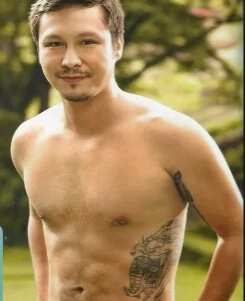 (He just suddenly physically hurt me. It should not be that way. All conflicts can be solved by talking things over.)
But when Geisler was made aware of Kiko's challenge, the former responded that he is willing to fight and face him anywhere and anytime.
Baron Geisler also made the headlines in an earlier viral video showing the actor physically attacking a student for the alleged problems he caused while shooting a video for a school project.
RELATED: WATCH: Baron Geisler involved in another fight!
Source: KAMI.com.gh