Duterte has no Cabinet post yet for Robredo
President-elect Rodrigo Duterte is not in a rush to bid incoming Vice President Leni Robredo a Cabinet post noting that the latter might have "an opportunity."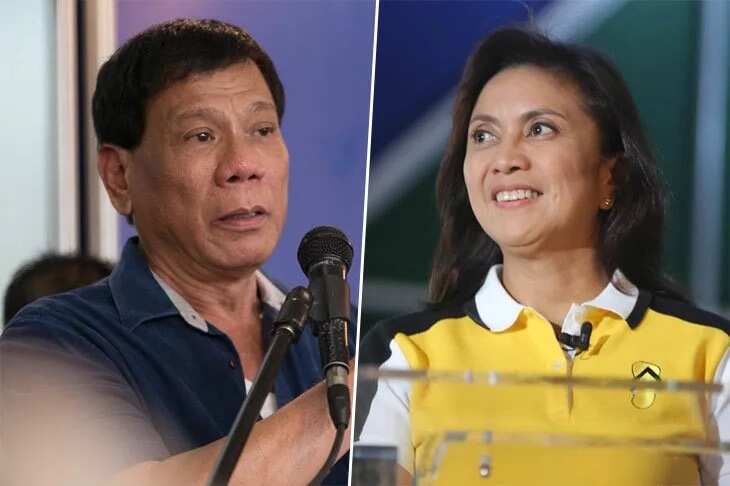 Duterte, however, seemed noncommittal in giving Robredo a job in his Cabinet despite the claims of his camp that the incoming president is open to offer the vice president-elect a position.
"It doesn't mean to say the door is open and there's already the job waiting. It's an opportunity or maybe we can talk about just having a good rapport in the meantime because we don't even know each other yet," Duterte said.
The outgoing mayor said he was considering giving back to those party party guys who have been loyal to him all along and those who were a factor in his presidential success. He believed he should not be looking beyond his borders yet.
Duterte is from the Partido Demokratiko Pilipino-Lakas ng Bayan whereas Robredo is under the Liberal Party (LP) which campaigned against his election.
A longtime politician of Davao City, Duterte said he is more willing to assign those he knew well and he trusted. "You do not appoint somebody you do not trust. But you also have to know the person, to know enough of his character or his capacity and his honesty" adding that he doesn't "even know who this [Robredo] looming genius in government is."
Robredo on Saturday, told reporters in Naga City in Camarines Sur that she would focus her attention on antipoverty programs if she would not be given a Cabinet position.
"I prefer an antipoverty job similar to the present setup of the antipoverty cluster [in the Aquino Cabinet] headed by the secretary of [social welfare and development].[This job entails] clustered thrusts on housing, livelihood and agriculture," she said.
The 71-year-old executive, in a news conference on Saturday in Davao City, stressed that he wanted to prioritize the people within his circle who helped in his electorcal victory.
"That (giving Robredo a Cabinet job) never entered my mind actually. I am not trying to be smart aleck, but I'm still trying to figure out the selection in my own group and party," he said.
Duterte furthered that if it's just talking about "an opportunity" for Robredo, "it would come later."
The outgoing Camarines Sur representative has pledged "100-percent support" for Duterte's administration but whether she gets a Cabinet offer is up to him.
RELATED: Robredo to fight Duterte for human rights – Malacañang
Source: KAMI.com.gh