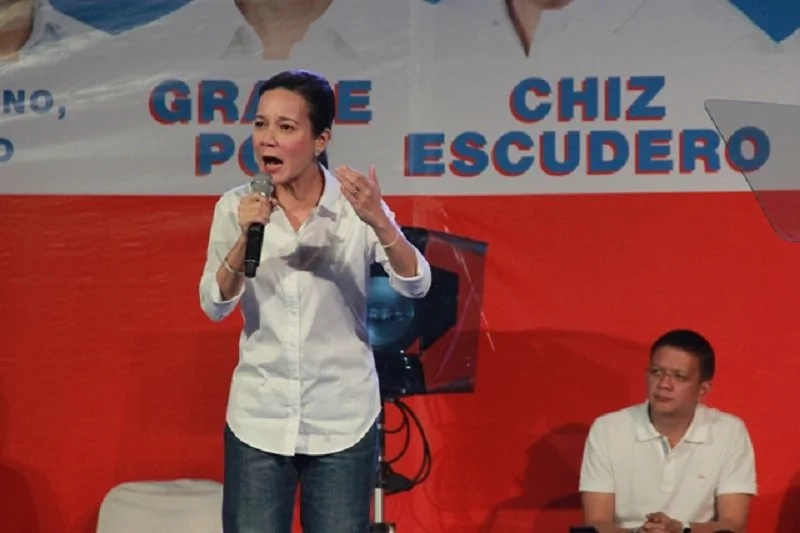 Poe Visits INC, Denies Courting Votes
Current survey front runner Senator Grace Poe, visted a top Iglesia Ni Cristo (INC) official in an apparent bid to win the bloc-vote of the religious sect.
On Wednesday, Poe met with INC minister Eraño according to two sources who said they saw her waiting in Cordera's office. She was seen accompanies by Mike Defensor, a former Quezon City representative and member of the Cabinet of former President Gloria Macapagal-Arroyo. The meeting lasted for an hour.
Poe was seen in a white dress and reportedly arrive in the reception area where politicians who seek the support of the INC are seated.
Poe denied, however, that the meeting with the INC minister was in exchange for votes. She confirmed the meeting, but the meeting was only a meeting about "exchanging ideas and views". "It was simply a brief meeting marked by an exchange of ideas and views, and at no time was there any asking of support," Poe said in a text message.
Poe also denied that Defensor was part of her campaign team. She said that she appreciates some people's willingness to help.
While I appreciate the willingness of people to help me win the elections, I believe that his former association with a political administration is incompatible with my crusade for transparent governance and electoral reform," said Poe.
The 2 million strong bloc-voting power of the INC is a much sought after endorsement. The INC expect favors to be returned, usually, in the the form of appointment of INC members to important government posts.
Poe was criticized last year for defending the sect in their rally against the actions of then Justice secretary Leila De Lima for her handling on the case of Lowell Menorca. She was labeled an opportunist. She was however, only defending the protesters rights to rally, rather than protecting the INC.
Source: Kami.com.ph