FIND OUT: Filipino marries two brides in a single wedding ceremony
There will come a point in our lives that we would be able to find that one person who is worth giving up the world for. A person whom you are willing to leave the world of singlehood behind and eventually settle down with for the remainder of your life. That day would be when you enter marriage with that one. But that isn't the case for one man. He has two marriages to juggle.
Razul Timbukon at 22 years old resides in Sultan Kudarat, Philippines. What a remarkable situation this man has brought upon himself by falling in love with two women at the same time.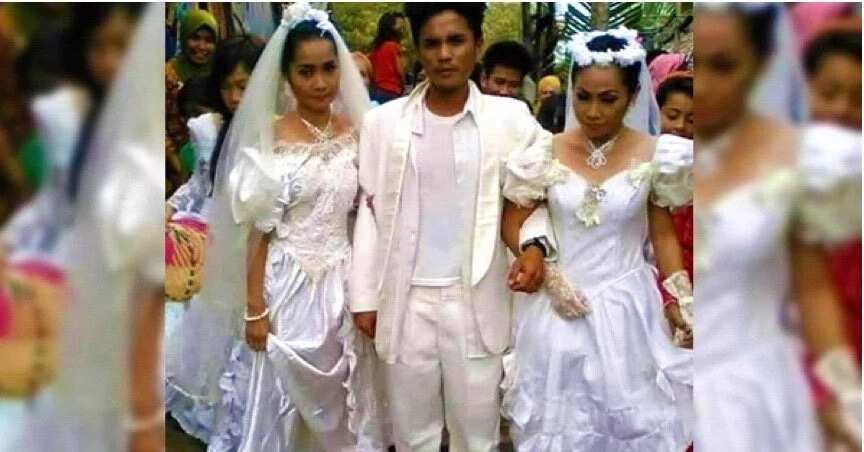 The names of his two lovers are Jarah Mendoza Labangin and Thelma Guipal.
Originally, Timbukon was to marry Labangin first but Thelma was enraged and would not allow this because he promised marriage to her as well. Not only that, as soon as Labangin's parents heard about the situation their daughter was in, they were furious. Quite frankly, whose parents wouldn't be mad at a son-in-law who wouldn't put their daughter first?
But Timbukon found a way; he would marry both girls at the same time. Since they are Muslims, their religion grants men the freedom to have more than one wife as long as he is able to provide for all. This occasion made such a fuss though because it is such a rare event for a man to marry to girls at the same time! That must have made a really long invitation list.
Sources say that the three now share a house and that one of the two women has left the country and has not returned yet.
But, many are speculating that the marriage is not even real because, in the pictures, the three are not wearing the traditional Muslim wedding gowns. In fact, the ceremony appears to be a Christian wedding, which would be an even bigger mess since bigamy is not sanctioned by the Church.
What do you think about this? Is it proper for a man to be polygamous?
Source: KAMI.com.gh