He was once jailed for drug dealing; how this boy changed his life will amaze you
Victorio Principe used to be a drug runner/ courier, got caught, and now has changed his ways for the better.
At such an early age, Victorio Principe had to work to help his family. According to him, "Hanggang Grade VI lang po kasi natapos ko at kailangan na huminto kasi kinailangan magtrabaho sa construction dahil wala na kaming kakainin." (I only finished Grade VI and I needed to stop because I had to work at the construction so we could have something to eat.)
Because of the hardships and struggle they were facing, Victor thought he had no other choice in life but to enter the illegal business of drug running. He thought that this would help them have a better life since he would have access to easy money. He was proven wrong when at age 20; he was convicted for dealing with drugs.
It might have been the end of the road for Victor, but he was given a second chance. While in prison, Victor was able to finish high school with the Alternative Learning System (ALS) program. Because of his desire to change his life and perseverance in studying, he was able to land the 4th highest Quezon City passer when he took the ALS program equivalency exam.
Last May 2, Mayor Herbert M. Bautista was able to meet Victor and the other top-notchers at the Quezon City Hall. The mayor had seen how determined Victor was to correct his mistakes and to succeed in life despite the setbacks so he awarded Victor a full scholarship for his college studies! He will be studying a four-year course at the Quezon City Polytechnic University (QCPU).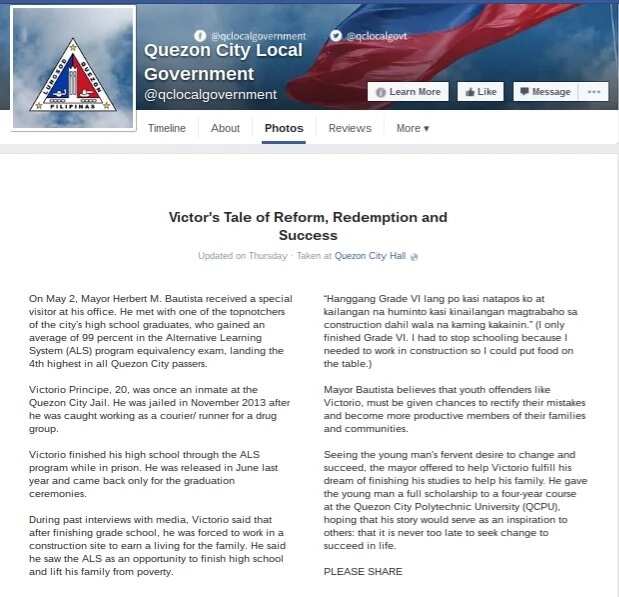 According to the Facebook page of Quezon City Local Government, Victor will also be receiving monetary support for his everyday needs such as fare, school supplies, and many more.
Victor proves to us that one mistake can be surpassed by correcting it and by working hard to achieve success.
RELATED: Bangladesh bank hackers attack the Philippines
Source: Kami.com.ph