We've rounded a bunch of funny replies from Sebastian "Baste" Duterte to his fans' messages on his Facebook account.
During the campaign and elections period, netizens have been extremely engaged with debating about their chosen candidates. Now that the elections are done and Davao city mayor Rodrigo Duterte is the presumptive president, the heated arguments have died down.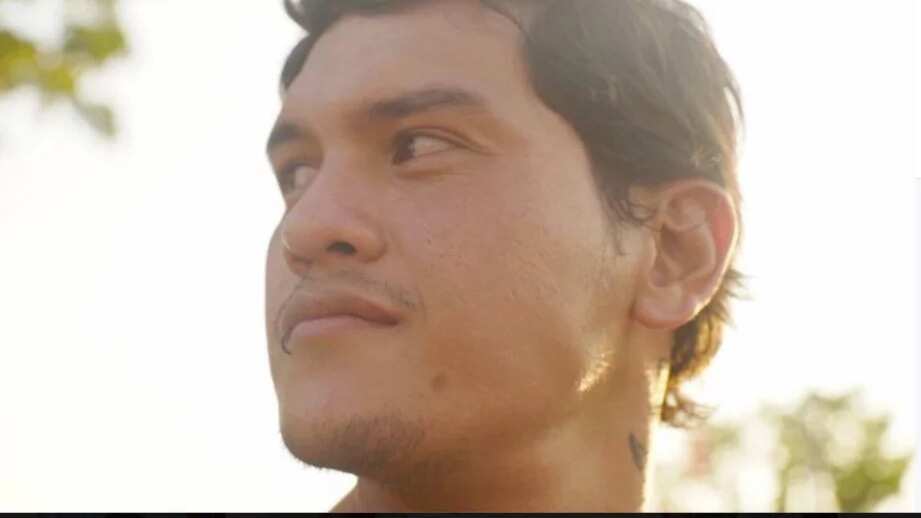 The heat that didn't die down, however, was the people's admiration for Duterte's son Sebastian 'Baste' Duterte. Baste received lots of messages and comments on his Facebook wall from fans showing how much they're attracted to him and how much they love the presumptive first son. The 28-year-old hunk showed his humorous side when replying to these comments.
Here are fourteen funny replies to his fans.
1. "Hi"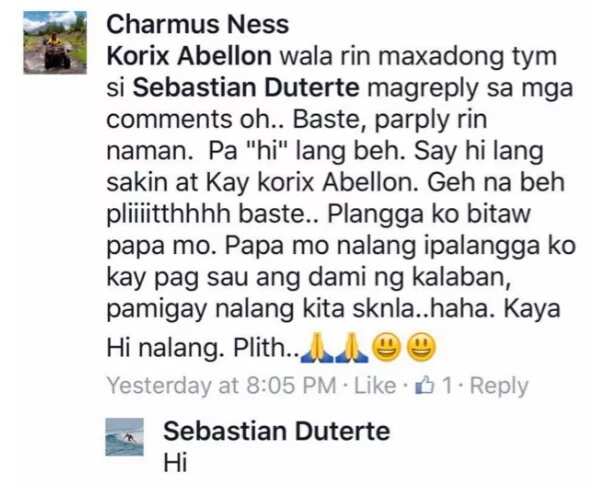 Baste is generous in replying to his fans. Like this one who merely asked for a simple "Hi."
2. I might fall for you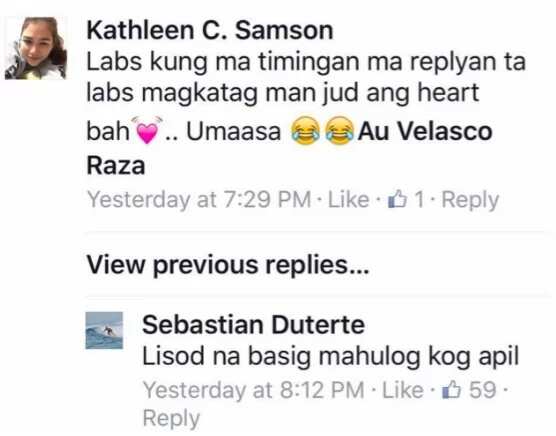 A fan said that if Baste replies, her heart would explode. Baste then replied with 'It's hard, I might fall for you too.' I wonder if her heart is still in one piece.
3. I'll be the "ring bearer," ma'am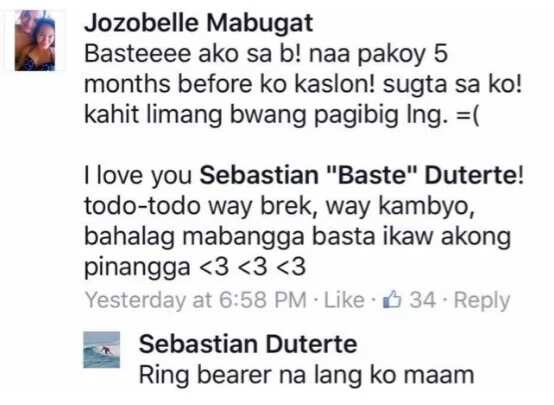 A fan shared that before she gets married in five months, she wants to have a relationship with Baste even if it's just a short one. To which Baste replied that he'd rather be a "ring bearer."
4. "Hala ka uy"

A guy fan also expressed his love to Baste but he just replied with "Hala ka uy."
5. "Di pa ko ready"
Baste isn't ready to get married yet, girls.
6. I'll ask my mom.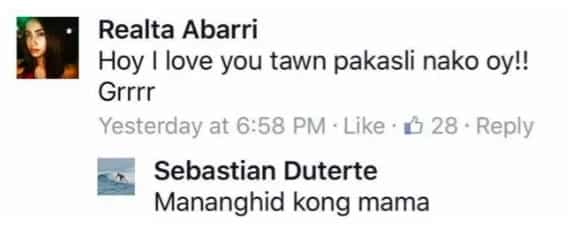 Who knew Sebastian was such a mama's boy? He said he'd asked permission first from his mother when someone asked to get married to him.
7. I haven't even courted you.

He is a gentleman who believes in doing things the traditional way. When a fan said that Baste is her boyfriend already, he replied that he hasn't even courted her yet.
8. I'll have my eyelash shipped to you.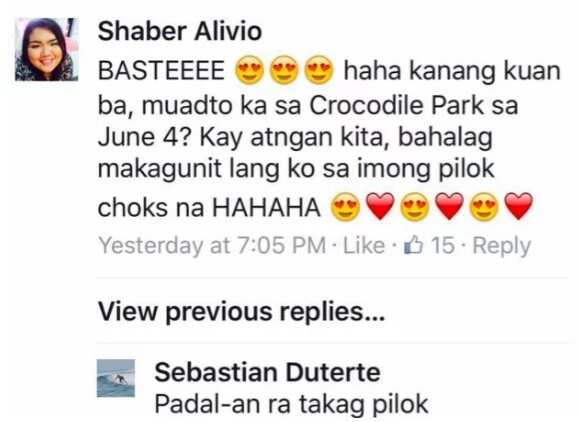 A fan made a weird request to touch Baste's eyelashes. He said that he'd just have them shipped to her. Ask and you shall receive (with free shipping.)
9. Don't kill yourself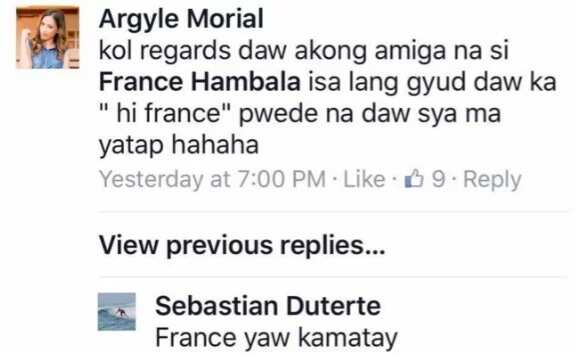 They say looks can kill, but according to one of Baste's fans, she could die if Baste would just say "Hi" Being the gentleman, he just replied that France shouldn't kill herself.
10. "Sayang ka."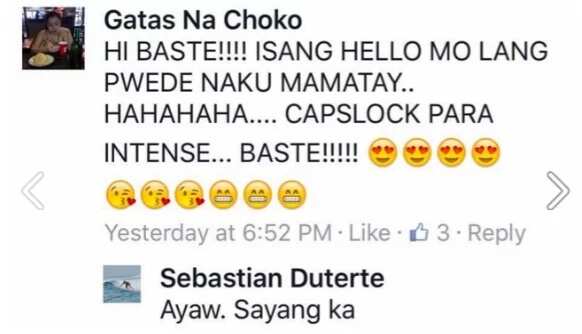 Another fan also said that she could die with a simple "Hello" from Baste. With his reply of "Ayaw, sayang ka," I'm sure anyone who hears that from him would be trembling with joy.
11. I left my heart at the wrong place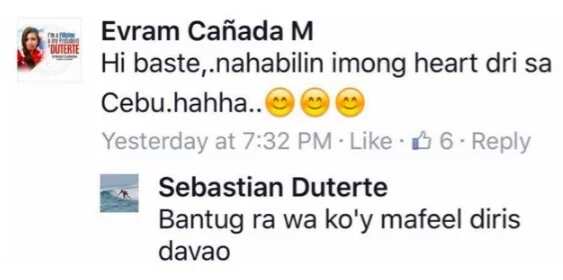 Baste joked that he can't feel anything in Davao because a fan commented that he left his heart in Cebu with her.
12. Closed eyes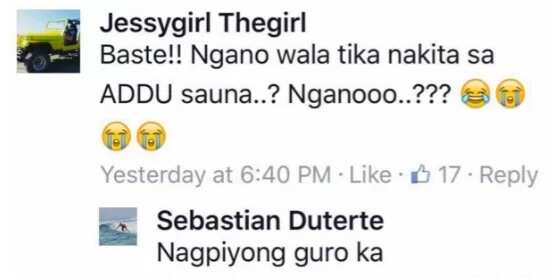 Jessygirl asked why she didn't see him in ADDU before and Baste replied in jest that her eyes must have been closed.
13. Papa, papa, paano ako ginawa?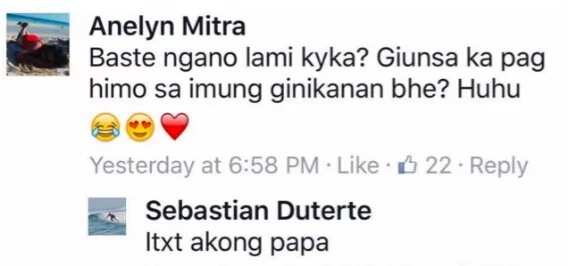 Fan: Why are you so hot? How did your parents make you?
Baste: I'll text my father
14. He can't even.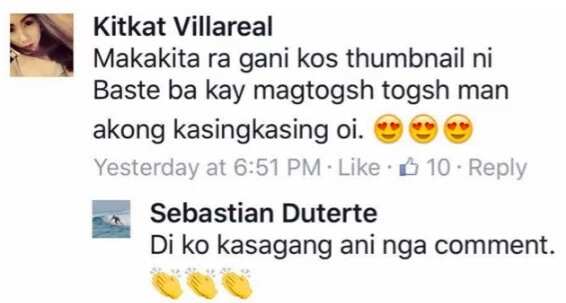 A fan said that if only she can see his nail, her heart would beat fast. With this comment, Baste said that he didn't know how to handle this comment.
Who knew that deep inside that macho and cool exterior is a warm and funny guy?
RELATED: 9 reasons why Baste Duterte is the bad boy we all want
Source: Kami.com.ph