Don't you hate it when you're happily scrolling down your Facebook feed when, suddenly, horror of horrors, you read a post by some horrible human being called your Facebook friend about how your favorite character died a horrible death on the latest episode of HBO's Game of Thrones?
Yes, we feel your pain. Game of Thrones spoilers make us all lose our faith in humanity.
But a new Google Chrome extension is the solution to our spoiler woes.
GameofSpoils can detect and block Game of Thrones-related spoilers on Facebook, Twitter, and other social media sites.
The extension's latest update even lets you add specific keywords and phrases you want it to screen for you.
Based on initial reviews, it looks like GameofSpoils is effective.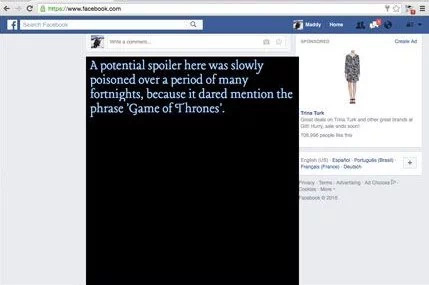 When your Facebook friend posts a spoiler, what you'll see is a black box and this text: "A potential spoiler here was slowly poisoned over a period of many fortnights, because it dared mention the phrase Game of Thrones."
You can also look forward to other funny sayings after you download the extension like: "A potential spoiler here was incinerated by hot dragon breath, because it dared mention the phrase 'Asoiaf.'"
Faith in humanity restored.
Source: Kami.com.ph