Virtual reality to show "It's More Fun in the Philippines?"
The Department of Tourism (DOT) tapped new virtual reality technology in its take over of the London Waterloo station from April 24 to May 23 to promote the country's sights.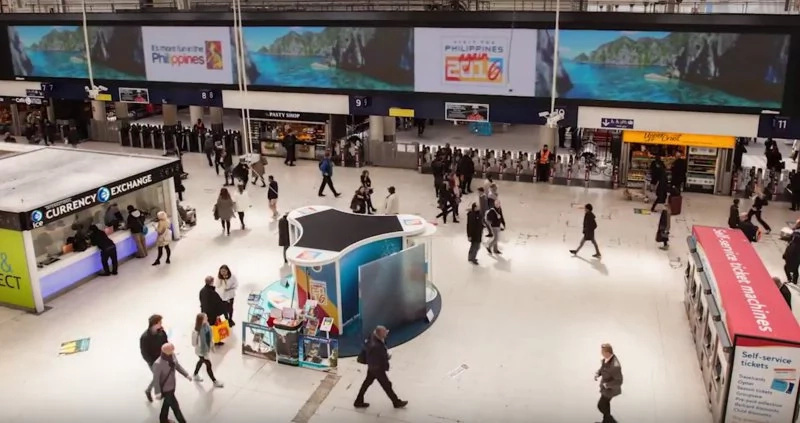 The tourism installation is part of the DOT's "Station Domination" project.
Because of its high foot traffic, the Waterloo station was seen as a valuable location for the campaign.
The Station Domination project also coincided with the London Marathon.
Aside from the virtual reality station, the DOT decorated Waterloo with banners and floor stickers showing the Philippines' tourism tagline "It's More Fun in the Philippines."
Large screens also looped videos of the country's best tourism destinations.
The installation was also an immersive experience where train commuters were able to pose for pictures with a paddle board against a photo of Coron, Palawan as background.
Some lucky commuters also got chances to win trips to the Philippines.
"The whole thing is branded as Philippines, so that in itself gives an island feeling. Now, it's very cold, so they want to have this feel of islands," said Gerard Panga, Tourism Attache & Director for the Northern and Southern Europe Philippine embassy.
One passer-by who already visited the Philippines said: "Seeing the pictures of the other islands that I didn't get to go to makes me want to go back so badly."
"When you just see something fleetingly on the TV or in [advertisement] on the paper, it's easy to brush it past, whereas if you actually feel like you've actually gone to the island before you go, you actually want to experience it for real," said another traveler.
According to the DOT, the "Station Domination" project reached around 8.4 million commuters and 1.2 million Facebook users.
The next stop for the project in London will be in King's Cross Station.
Source: Kami.com.ph