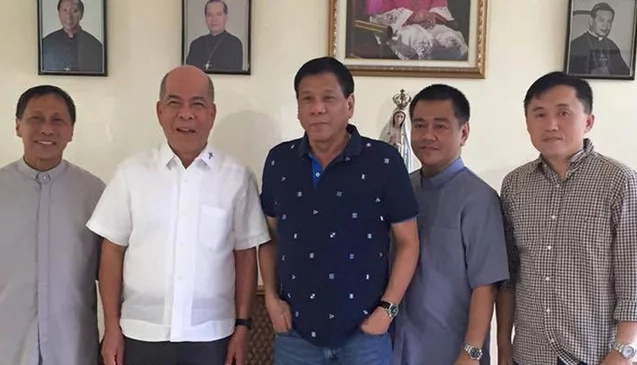 Presumptive President-elect Rodrigo Duterte has clarified on Thursday that not all bishops of the Catholic Church are his enemies and that some of them are actually his friends.
"Okay naman kami. Hindi naman lahat ng bishops kaaway ko. Iyung bishop dito barkada kami eh," Duterte told reporters during a press conference in Davao City.
(We are okay. Not all bishops are my enemies. The bishop here is my friend.)
However, the incoming president added that his days of being obedient to the Catholic clergy is over since he is about to become the new President of the Philippines.
"Noon high school, sunud-sunuran kami; nung law school, sunud sunuran; ngayong president, sunud sunuran [pa rin] ako?" Duterte asked.
(We followed blindly during high school; followed blindly in law school; now that I am the president, will I still be a blind follower?)
Duterte has criticized the Catholic Church in recent days, calling it the "most hypocritical institution." He called out the Catholic bishops who like asking for material gifts and favors from politicians and wealthy citizens.
Duterte also blasted the bishops who indirectly urged the Catholic citizens not to vote for him in the recent presidential election. He also criticized Catholic teachings against the use of contraceptives and other birth control methods for family planning.
The outgoing Davao City Mayor also revealed that he knows of some bishops who have children and those who live luxurious lives. The Catholic Church responded by telling Duterte to reveal the corruption and malpractices he knows about so that guilty parties could be given the necessary punishments and penalties.
During the Thursday press conference in Davao City, Duterte also promised that he will stop swearing and cursing once he officially becomes the President of the Philippines.
"There is a protocol to follow… 'Di na ako pwedeng magloko loko dyan. Kapag nandyan ako, 'di na talaga, swear to God (I will not fool around anymore once I get there. Not anymore, swear to God)," Duterte explained.
RELATED: Duterte: Sabah belongs to PH
Source: Kami.com.ph