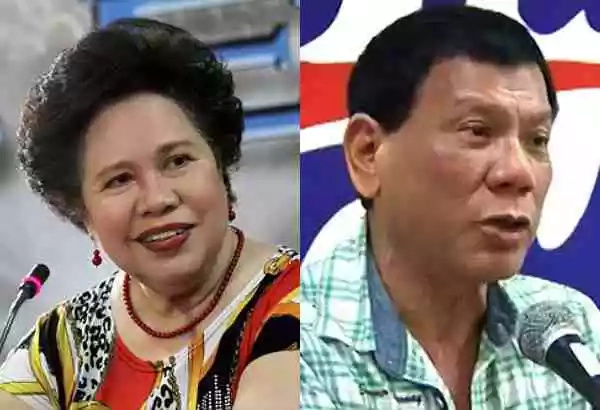 Incoming President Rodrigo Duterte's lawyers Salvador Panelo and Amado Valdez advised presidential candidate Miriam Defensor-Santiago on Thursday to officially concede the presidential race.
Duterte's election canvassing counsels explained that this move can help the cause of vice presidential contender Ferdinand "Bongbong" Marcos Jr. to have a separate canvassing for the vice presidential race.
"If senator Bongbong Marcos wants a separate canvass for the vice-presidency, he should get Miriam to concede first," Valdez told the media.
"If Senator Miriam would consider conceding today, the work of the joint congressional canvassing panel would be considerably eased, paving the way for presumptive president-elect Duterte's swift proclamation," Panelo added.
Panelo explained that Bongbong Marcos will be able to request for a separate canvassing for the vice presidency because the National Board of Canvassers, the Filipino people, the international community, and all the volunteer lawyers will be able to focus on protecting Marcos' votes if all of the presidential candidates have already conceded to Duterte. Defensor-Santiago is the only candidate yet to concede to Duterte.
Panelo added that Defensor-Santiago has nothing to be ashamed of by conceding to Duterte – who leads the presidential race by a large margin. "Bowing to the will of majority of the Filipino people is not an act of conceding to a particular candidate like Duterte. It's statesmanship in its purest form," Panelo stated.
House Majority Leader Neptali Gonzales has denied on Wednesday's Joint canvassing panel session the motion to proclaim Duterte as the official winner of the presidential race before a single COC could be canvassed.
Gonzales explained that the votes for the presidential race have to be canvassed even if Duterte is winning by a large margin. Panelo agreed with Gonzales' decision, saying that the canvassing serves as the basis for proclaiming a winning candidate.
If Defensor-Santiago concedes, a speedier canvassing and proclamation of the winner could be requested by the Marcos camp which could also pave the way for a separate canvassing for the vice presidential race.
RELATED: PNoy explains why Marcos nearly won VP race
Source: Kami.com.ph