Photos of Rita Gaviola had recently invaded social media as the latest Internet pretty discovery. The 13-year-old got tagged as the Badjao Girl when her photo became viral and caught the attention of many netizens.
A self-admitted computer illiterate, Gaviola knew nothing about Facebook and social media.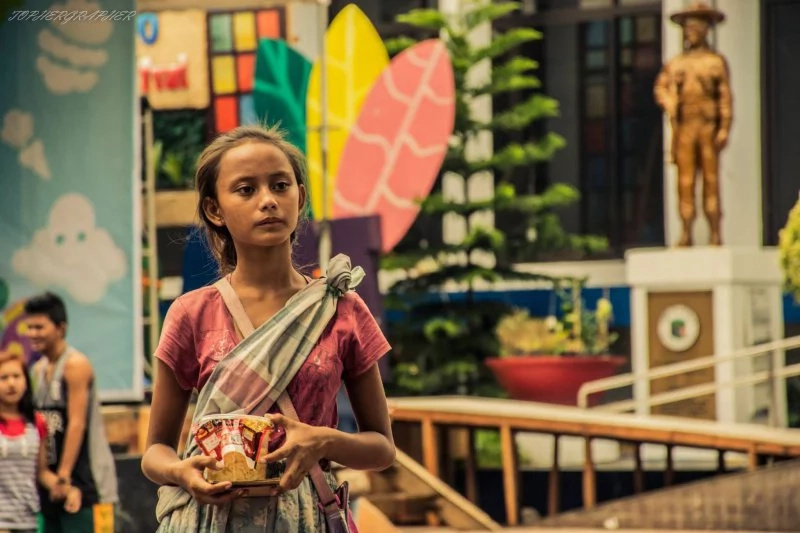 The girl admitted she was scared at first and thought she will be arrested by the police for begging when photographer Topher Quinto Burgos took her photo last May 15 during the Pahiyas Festival in Lucban, Quezon.
"Hindi po ako marunong mag-internet, pinakita lang sakin sa cellphone. Pinagsabihan nila ako na, uy si Rita, artista na. Ganyan lang po sinasabi nila," Gabriola said in an interview.
(I don't know how to use the Internet, they just showed it to me through a cellphone. They tell me that I'm a celebrity now.)
Her all-natural morena beauty was praised by online commenters and certainly brought fame and hope to Gaviola and the rest of the Badjao community.
Just like Jeyrick "Carrot Man" Sigmaton, Gaviola seems to be awakening the awareness of Filipinos about the rest of the indigenous groups in the Philippines.
Some offered to help her family and the Badjao community in Lucena, Quezon where Gaviola lives. Others are advocating protection of the Badjaos and support for their plight.
"Masaya lang po ako at nagpapasalamat ako kay Kuya Topher, ako po ang napili niya. Kaya sobra-sobrang pasasalamat ko sa kanya," said Gaviola.
(I'm just happy and thankful to Kuya Topher because he chose me. I am very thankful to him.)
A Facebook page dedicated to Badjao Girl now has more than 35,000 likes and has caught the attention of beauty queens like Miss World Philippines 2015 Hillarie Danielle Parungao, Miss International Philippines 2014 Bianca Guidotti and Miss Earth 2015 Angelia Ong, who offered to help her.
As an online sensation, it opens a lot of doors for Gaviola and her family as many already provided food, clothes, and cash to them.
Badjao girl was at the Pahiyas to ask for alms in order to be able to help out in feeding her family. She and her mother earned only P300 that day.
Her family left Zamboanga City looking for a way to escape poverty. Seven years ago, they found their way to Barangay Barra in Lucena, where they now live in a shack near a concrete seawall.
Gaviola have five siblings. Her family share one meal a day, usually boiled cassava mixed with fish they catch.
Gaviola hopes to finish her studies and become a teacher.
"I want to help my siblings and the other Badjao kids to get educaiton," said Gaviola.
According to a report from the Inquirere, Lucena Mayor Roderick Alcala promised that he would send Gaviola to school.
"I'm glad that the younger generation of Badjao is focused on getting education. That will help the government improve the lives of our indigenous brethren," he said.
There are about 367 Badjaos in Gaviola's village. More than 50 Badjao children are enrolled in elementary and high school according to Benzar Gadzali, the local Badjao leader.
Gadzali said that the local government had been giving them support through different projects and programs, but they are still hoping for fishing boats and gears to help them with their livelihood.
"We want a livelihood assistance program that suits our way of living... We were all born to live with the sea," he said.
Source: Kami.com.ph