The first Cabinet informal gathering took place on Wednesday night, May 25, in World Corporate Center on Shaw Boulevard, Metro Manila, with prospective members of Rodrigo Duterte Cabinet exchanging contact numbers and bonding over lunch composed of monggo and dried fish.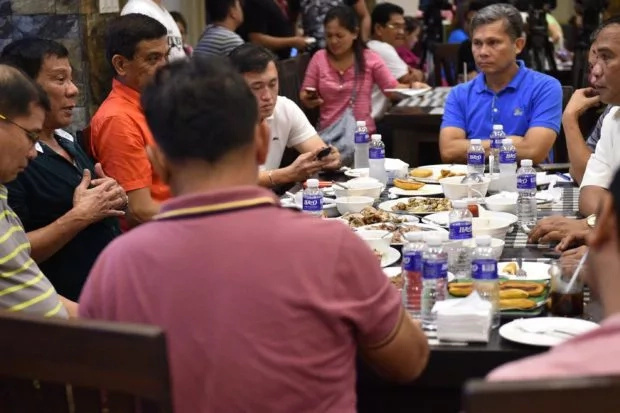 Even though Duterte himself was not around during the meeting, it seems that the members were having a good time.
Manny Piñol, the Prospective Agriculture Secretary, said that the gathering was more of a "getting-to-know-you meeting."
"Nothing substantial. We exchanged phone numbers for connectivity and had our self-service lunch of monggo and fried fish," he said.
"Everybody seems eager to work. We're all aware of the very high expectations of the people," Piñol added.
Hermogenes Esperon Jr, the Prospective National Security Adviser, also described the said event in a similar way and said that most of those who were present were having fun.
"Most have their wits intact," he said.
Photos of the gathering also made its way through the social media network. Roldan Gorgonio posted on Facebook photos of key members of Duterte's incoming Cabinet during the gathering.
It can be recalled that the incoming president has been releasing names of people that would be part of his Cabinet.
According to Gorgonio, those who were present during the event are as follows:
Some of these people have met each other for the first time.
RELATED: Duterte to investigate de Lima for shabu in Bilibid
Source: Kami.com.ph