Presumptive President-elect Rodrigo "Digong" Duterte told incoming Senator Leila de Lima to keep quiet, after promising to oppose the incoming Duterte administration especially when it comes to violation of human rights. The incoming president also gave some stern warnings to the former Justice secretary.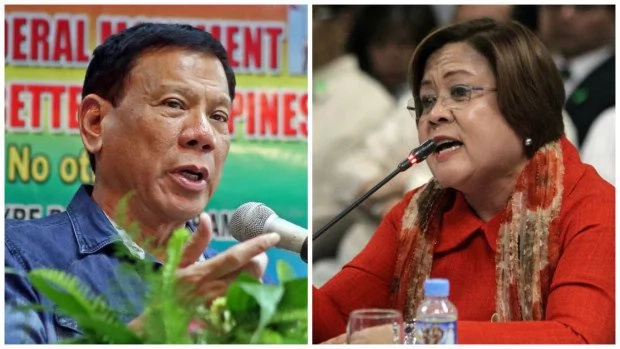 "Tumahimik ka (Shut up). I will investigate you and file charges against you," Duterte told reporters on Thursday in Davao City.
The outgoing Davao City Mayor also seemed to be blaming De Lima for the shabu (crystal meth) problem in the Philippines.
"Shabu started during her time. I called her attention when she criticized me," Duterte noted.
He said he "will dig deep" into why De Lima took seven months to check on the shabu laboratories in the New Bilibid Prison.
'Hoy, hija. Huwag mo masyadong pakialaman 'yung bunganga ko (Woman, don't interfere with what comes out of my mouth). You better look in your own backyard because you have a very serious problem there," Duterte added.
Duterte also warned the incoming senator not to pick a fight with him because she will lose the battle.
De Lima has criticized Duterte many times in the past for the latter's alleged involvement and comments about extrajudicial killings in Davao. The Department of Justice (DOJ) looked into these alleged killings but nothing came out of the investigation.
The senator-elect has also expressed her opposition to Duterte's plan to reinstate the death penalty in the country. She also criticized and opposed the incoming president's comments about implementing a shoot-to-kill policy against criminals.
"(Duterte has) emboldened similarly minded local officials to implement their own anti-human rights policies," De Lima said in an earlier interview.
De Lima added that her time in the Commission on Human Rights would help her in fulfilling her responsibilities as a senator and in protecting the Filipino people from human rights violations.
"I will be a watchdog," Leila de Lima promised.
Rodrigo Duterte became well-known for his strong stance against crime and corruption and his willingness to kill criminals in order to keep the public safe. Many analysts believe that Duterte's violent approach against criminals helped him win the recent presidential race by a large margin.
RELATED: PNoy approves law to protect bank depositors
Source: Kami.com.ph