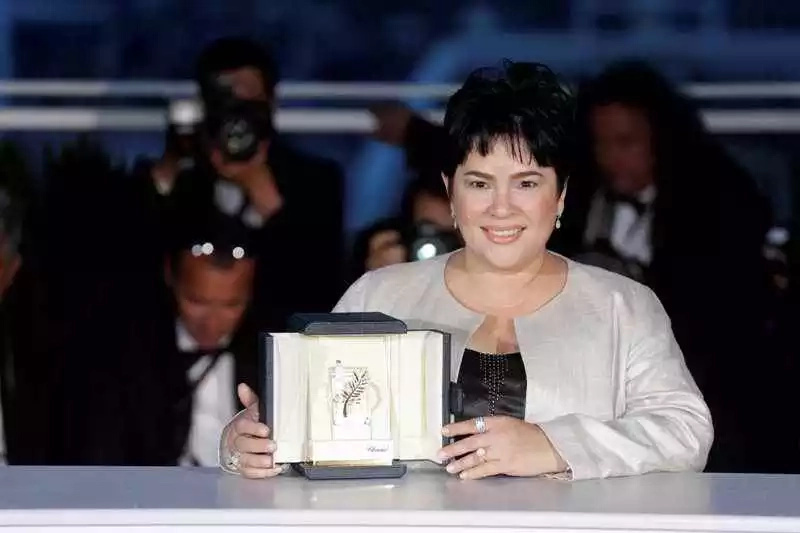 Filipina award-winning actress Jacklyn Jose is back in her native country after her acting victory at the 69 Cannes Film Festival.
The jubilant actress was seen carrying her Palme d'Or (Gold Leaf) award, for her performance in critically acclaimed director Brillante Mendoza's film, Ma'Rosa.
The actress arrived in Manila on Tuesday afternoon, on board an Emirates flight from Dubai, together with Mendoza, her real-life daughter Andi Eigenmann, and other actors in the film.
Speaking to reporters, Jose shared the overwhelming feeling of being the first Filipino and Southeast Asian actress to have been given such an honor.
"Napakasarap! No amount of words can express how I feel. It's so overwhelming. I'm overjoyed. I'm so happy.  This [award] is not easy to get, but we got it. To be the first [actress] in Southeast Asia [to be recognized at Cannes], it is a very good feeling," she said.
Repeating her words of salute to the Filipino in her acceptance speech, Jose said "It always feels good to represent the Philippines. Thank you very much, this is truly a great honor for me and I am sharing this with all of you."
In her acceptance speech, Jose thanked Brillante Mendoza, who has also won in the past a Best Director award from Cannes, and included the Filipino people in her victory.
"I thank the director Brillante Mendoza, whose instructions I simply followed," she said.
"He's a brilliant director, a genius. I am so happy you liked the film. I'd like to salute the Filipino people," she added.
In a show of gratitude, Filipino netizens are congratulating Jacklyn Jose and the whole Ma'Rosa team for being another source of pride for the country.
Jose bested other widely acclaimed and more popular actresses like Hollywood stars Charlize Theron, Kristen Stewart, French actresses Marion Cotillard and Isabelle Huppert. With an acting nod from the Cannes jury, Jose now joins the ranks of illustrious names who have won the award including Julianne Moore, Juliette Binoche, Katherine Hepburn, Kirsten Dunst, and Meryl Streep.
Aside from Jacklyn Jose, the film also stars her real-life daughter Andi Eigenmann, veteran actor Julio Diaz, Felix Rocco, Jomari Angeles, and Maria Isabel Lopez who made waves in the Cannes red carpet.
Source: Kami.com.ph