After Duterte threatened to disclose the sins of some Catholic bishops and priests, Archbishop Oscar Cruz said on Tuesday that the Church will not do anything to stop authorities from arresting clergymen who committed crimes.
"Debates do not resolve matters. So, if he wants to expose what he knows about the mistakes or sins of churchmen, please do so. There is no problem. So, they can be corrected," Lingayen Dagupan Archbishop Oscar Cruz said in an interview.
(If a priest commits a crime, he needs to answer to the state. If he needs to be imprisoned, he should be imprisoned.)
It can be recalled that during the campaign period, Duterte has reportedly revealed having suffered sexual abuse, along with some of his classmates, from members of the Catholic Church while he was studying at the Ateneo de Davao University.
In an earlier statement, Duterte had also said that he plans to reveal the names and addresses of some Catholic bishops who have children. He also blasted the bishops who always ask for favors and gifts from politicians and rich citizens.
However, Archbishop Cruz replied that the Catholic Church welcomes these revelations and evidences against bishops. He says that it is a great way to cleanse the ranks of the clergy and improve the condition of the Church.
The archbishop also noted how the Catholic Church has already punished several priests who have been proven to have committed abuses and misconduct. Cruz explained that the most severe punishment for a priest or a bishop is excommunication from the Church.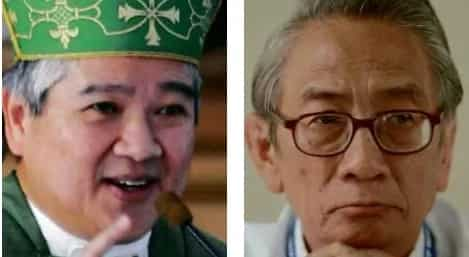 He added, "Tama po iyon para malinis po natin ang ranggo ng kaparian. Minsan nga po talaga ang mga obispo ay hindi nila nalalaman ang ginagawa ng kanilang kaparian. Tama po iyon para ang Simbahan ay makagalaw at makaaksyon." 
Aside from criticizing the bishops who have children, Duterte also blasted Cruz for trying to justify the high-end vehicles received by some of the bishops.
(Then there is Oscar Cruz, who said that he used the Montero vehicles and the Land Cruiser as part of the charity of the priests… You are lying to the Filipinos… Do not f*** with me, Cruz!)
Despite Duterte's constant verbal attacks, Cruz is still hoping that the presumptive president will change his approach towards the Catholic Church after taking oath as the president.
(He is in a fighting mood right now but acquiring an international dimension to his government position might open up his mind and heart.)
RELATED: [WATCH] Catholic Church vs. 'Iglesia ni Duterte'
Source: Kami.com.ph