Unethical for candidates to be in canvassing committee – Drilon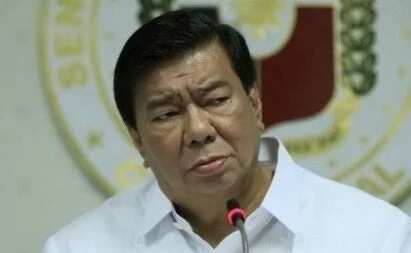 Senate President and Senator-elect Franklin Drilon opined that it is unethical for candidates who ran in the 2016 Presidential and Vice-Presidential elections to join the national board of canvassers (NBOC), even if they have already conceded.
Drilon said in an ambush interview with the Philippine Star that due to conflict of interest, a candidate or those related to a presidential or vice presidential candidate must inhibit from participating in the canvassing of votes.
"It is not ethical and you will have a conflict of interest if you are a candidate and you sit in the canvass. That cannot be, that cannot be proper. For example, Sen. Alan Peter Cayetano can't sit in the canvass as well as Sens. Grace (Poe), Chiz (Escudero)," Drilon said.
Senators Chiz Escudero and Alan Peter Cayetano ran for vice-president and has already conceded defeat. However it was Cayetano who was vocal in conceding defeat to Camarines Sur Representative Leni Robredo, whose lead in the unofficial election results is still being questioned by Senator Ferdinand "Bongbong" Marcos.
Senator Grace Poe ran an independent campaign for the presidency, and was the first one to concede to President-elect Rodrigo Duterte.
"Kahit nagconcede. For example, si Sen. Nancy (Binay) I think would have to take a good look at the situation because she is the daughter of (presidential candidate Jejomar) Binay. It depends on them, but then we consider the circumstance," he added.
Drilon will be the co-chairman of NBOC together with House Speaker Feliciano Belmonte Jr.
The two will open the joint session of the Senate and the House of Representatives as they convene to canvass the votes for the May 9 presidential and vice-presidential elections.
Under the Constitution, the Congress acting as board of canvassers is mandated to canvass the votes and consecutively, to proclaim the winning president and vice-president.
However, the two chambers of Congress still have to finalize the canvassing rules which include the composition of the canvassing committee.
Drilon did not give the number of committee members for both chambers. "I don't want to preempt what will be in the rules. The number of committee members will be in the rules..." he said.
Source: KAMI.com.gh