Cancer survivors, health groups support Duterte's no smoking policy
New Vios Association of the Philippines (NVAP) President Emer Rojas, a cancer survivor, and his association hope that presumptive President Rodrigo Duterte's administration will successfully impose a nationwide no-smoking policy as they blame cigarette smoking and second hand smoking are the main causes of their sickness.
Emer Rojas said that they longed for the plan of Davao City Mayor Duterte to implement the no smoking polcy which he had previously imposed in Davao City.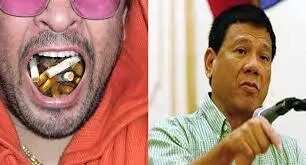 "The smoke-free places implementation in Davao City being scaled up on a nationwide setting is simply laudable and the NVAP fully supports this pronouncement of presumptive President Mayor Duterte," Rojas positively said.
"As cancers brought about by smoking continue to rise due to the prevalent use of cigarettes in the past years, it is high time we put a stop to this rising cancer trend," Rojas added.
Since 2002, Davao City has their anti-smoking ordinance. It also serves as a standard city when it comes to having tobacco controlled rules.
NVAP also said that aside from cancer, there are other diseases which can point smoking as the cause such us respiratory diseases, cardiovascular diseases, and even stroke.
NVAP added that said the implementation of the smoke-free policy will go hand in hand with the Graphic Health Warning and Sin Tax laws, among others.
"Having a nationwide no smoking policy will certainly boost what the GHW and Sin Tax laws intend to achieve, which is to help discourage the public especially the youth from tobacco addiction," said Rojas.
Earlier, health groups also articulated their support for the said policy.
"We are excited about his plan to make the Philippines practically smoke-free. For the longest time, Filipinos have been suffering from the effects of inhaling secondhand smoke everywhere," Atty. Irene Reyes, Health Justice Managing Director.
Digong is planning to prohibit smoking in enclosed public areas nationwide. Smoking rooms are also banned. However, one may be allowed to smoke 50 meters away from said establishments.
RELATED: WATCH: Duterte says yes to marijuana
Source: KAMI.com.gh