Presumptive President-elect Rodrigo Duterte revealed that he is no longer a member of the Catholic Church and jokingly urged the public to join him in what he calls the "Iglesia ni Duterte."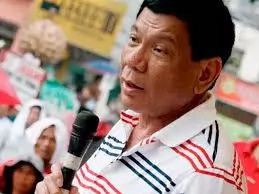 (I am not a member of Catholicism anymore. I have a new one, you can just transfer to the Church of Duterte.)
The incoming president continued his tirades and complaints about the Catholic Church. Duterte suggested that couples should limit the number of their children due to poverty, which is contrary to the teachings of the Catholic Church.
(It would be better if the Catholic Church would give an honorarium to families with multiple children. Like I said, if the Church cannot help, do not listen to it.)
The presumptive president also slammed the Catholic bishops – especially Oscar Cruz – who try to get favors and material gifts from politicians and rich citizens, especially Oscar Cruz.
(Then there is Oscar Cruz, who said that he used the Montero vehicles and the Land Cruiser as part of the charity of the priests… You are lying to the Filipinos… Do not f*** with me, Cruz!)
Retired Archbishop Oscar Cruz responded by telling Duterte to go to the proper channels to address his issues with the Catholic bishops.
The Catholic Bishops' Conference of the Philippines (CBCP) is expected to make a response to Duterte's recent attacks on the Catholic Church.
RELATED: WATCH: Duterte says yes to marijuana
Source: Kami.com.ph