Duterte: Arroyo said no to pardon
President-elect Rodrigo Duterte said former president Gloria Macapagal-Arroyo declined to be pardoned.
Duterte revealed on Monday, May 23, that he called Arroyo during the election campaign to offer her pardon if he wins the presidential race, but Arroyo supposedly refused because she would have to admit to the crime to be eligible for pardon.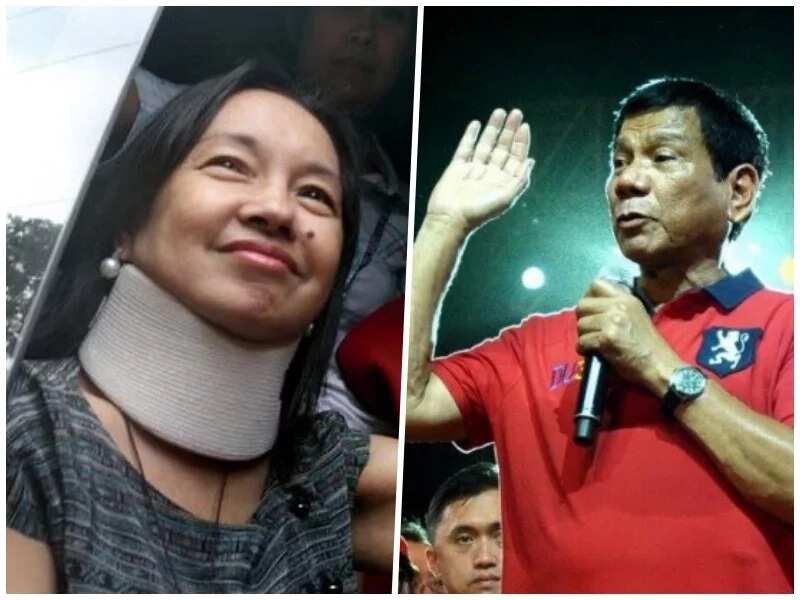 "I talked to her, sabi ko, 'Ma'am, gusto mo i-pardon kita (I said, 'Ma'am, if you want, I will pardon you). Not because we're friends but because I do not think that there is a good case against you as a prosecutor and as a lawyer," said Duterte.
The president-elect said he advised Arroyo to just apply for bail "since everyone else is out anyway."
Arroyo, now the representative of the second district of Pampanga, is on hospital arrest at the Veterans Memorial Medical Center over plunder charges for her involvement in the alleged misuse of P366-million Philippine Charity Sweepstakes Office (PCSO) intelligence funds from 2008 to 2010.
Her camp has asked for house arrest because Arroyo is suffering from multiple cervical spondylosis, a condition where the bones are wearing off.
Duterte repeated his belief that Arroyo is a victim of "slow justice."
"She's been detained for so long, the trial delayed. Under the constitution, that is grounds for dismissal," said Duterte.
"She's been there about 4 years without a trial. If there is a trial everyday then nothing to complain about," he added.
READ ALSO: Duterte to release plunderers?
The Davao City mayor earlier promised Kapampangans that she will release the former president if he wins the presidency.
He said he believes the evidence against Arroyo is weak.
Duterte said Arroyo could not be expected to produce a detailed and proper accounting of the intelligence fund because of the sensitive nature of the expenses.
"How can you account properly for intelligence fund? 'Yang mga tao diyan binibigay mo ng pera 'yan at 'yung hindi ko masyado kaibigan pero 'yung alam kong makatulong, especially galing bukid, mayroon kaming tinatawag na assets binibigyan ko 'yan. Paano ilagay doon na ayaw magbayad ng pangalan, hindi magpirma 'yan?" said Duterte.
(You pay people, even if they are not your friends but you know they can help, especially those from the rural areas. We call them assets and we pay them. How can you properly account for those funds when they don't even want to sign their names on any document?)
Source: KAMI.com.gh