Members of the workers' group, Partido Manggagawa, urges presumptive President Rodrigo Duterte to stop Philippine Airlines' (PAL) outsourcing program, a project approved by President Benigno "PNoy' Aquino in line with Duterte's anti-endo campaign.
Chairman of Partido Manggagawa (PM) Renato Magtubo insisted to Davao City Mayor Durterte to "rectify the injustice" PNoy made which paved the way for PAL to modify the employment status of more than 2,500 employees from regular to contractual.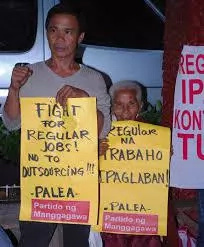 "Mr. President, this injustice does not require three or six months to fix and rectify. It is simply an implementation of a binding agreement between the union and the management which you were made aware of during a meeting with PALEA (Philippine Airlines Employees Association) officers before you finally decided to run as President," Chairman Magtubo said in a statement.
According to the chairman, members of the PALEA has been opposing said program of PAL for over two years by establishing and maintaining a protest camp at PAL's In-Flight Center near Terminal 2.
Back in September 2013, A Settlement Agreement was entered into by PALEA and the PAL management which stipulates that there would be a re-employment and compensation package that 600 members of PALEA who maintains their stand against the program are to benefit.
However, PALEA claimed that "PAL has not fully complied with the agreement particularly on the re-employment of 600 union members regular workers."
Magtubo added that the anti-endo campaign of Duterte's administration will be proven to be at work once justice is served to those 600 employees.
It can be remembered that Mayor Duterte vows to end contractualization once he sits in the presidential office.
"I will call the majority, mostly Liberal (Party) congressmen. I will tell them you pass this bill immediately. I need this during the first week of my administration," Duterte said during the presidential debate in Dagupan City last April 24.
RELATED: Duterte receives big gift from Aquino
Source: Kami.com.ph