Bishop warns Duterte for calling the church hypocrite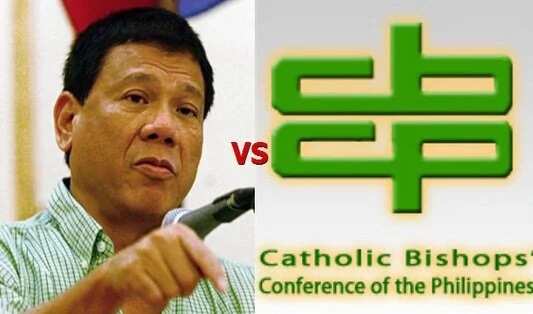 Archbishop Emeritus Oscar Cruz requests presumptive President Rodrigo Duterte to be more careful in speaking against and attacking the Catholic Church.
Oscar Cruz, former president of the Catholic Bishops' Conference of the Philippines (CBCP), admitted that even church officials like the bishops and priests also commit mistakes and sins just like other people.
He also added that their (church workers) flaws are not being kept as secret to the public.
"Ang taong simbahan po gaya naming mga Obispo at mga pari, marami kasing pagkukulang. Hindi naman namin itinatanggi iyon, hindi naman po sikreto na marami kaming pagkakamali," Cruz said.
(People from the church like us, bishops and priests, we also have shortcomings. We do not deny that, it's not a secret that we have many mistakes.)
This was the reaction of Cruz to Davao City Mayor Duterte's statement against the Catholic Church saying that it was the most hypocrite institution in the country.
Cruz said that although Duterte is correct in saying that they too have their own weaknesses, the latter should be vigilant in giving his statements.
"Tama siya na marami kaming pagkukulang kaming mga taong simbahan, pero hindi kami ang simbahan," Cruz said, distinguishing "Simbahan" as against "taong simbahan".
(He's right that we, people from church have many shortcomings, but we are not the church.)
According to him, the church will remain to be holy, strong, and united.
"Pero ang simbahan po ay iba po iyon, iyan po ay banal, nag-iisa. Ang tao malilibing na, magiging abo na pero ang simbahan ay nakatayo pa rin," he added.
(But the church is different, that is holy, and only one. A man gets buried, and will turn into ashes but the church will remain standing.)
Cruz said that this should not be taken as an advice, but rather as a favor.
He also said that he does not have any advice to Mayor Duterte, as when a person gets old, that person becomes more difficult to teach.
"Wala po akong payo kay President Duterte, kapag po matanda na ang tao ay hindi na matututo eh. Hindi po ako magpapayo, hindi naman ako papakinggan, baka pati ako mamura," he said.
(I don't have advice for president Duterte, when a man is already old he will no longer learn. I will not give advice,  I will not be heard, I might just get cursed.
The Catholic Church has earlier expressed that it will stand against the plan of the tough-talking mayor to have the legislative reimpose the capital penalty.
RELATED:Marcos to 'scrutinize each and every COC'
Source: KAMI.com.gh