Russia considering military & anti-terror ties with Duterte
Russia and the Philippines are expected to begin their anti-terrorism and military cooperation under presumptive president elect Davao City Mayor Rodrigo Duterte's administration.
The Russian Ambassador Igor Khovaev commented that their country is open to sharing their experience and information, as well as in forging a close partnership on the issue.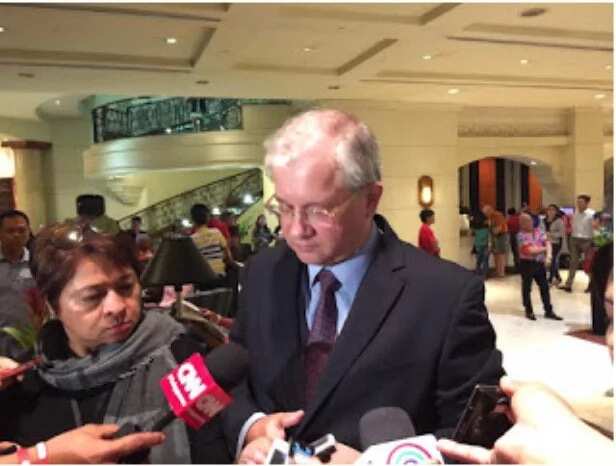 Duterte and Ambassador Khovaev met last Wednesday.
The Philippines' next president has been busy - he also had appointments with the ambassadors from China, Japan and Israel earlier this week.
In a surprise interview at a Davao City hotel, Khovaev explained that they believed the moment was ripe for promoting military cooperation in the region, in order to strengthen their fight against terrorism, as well as other challenges and threats to security and sustainable development.
He revealed that terrorist groups, such as IS and the Abu Sayyaf, were brought up during his meeting with Duterte. He said Russia was open to working closely with the Philippines, and sharing their knowledge on terrorism.
Khovaev added that while Russia and the Philippines suffer much from terrorism, it is a common threat to all, and eradication of the issue can never be accomplished alone. It was with this mindset, he shared, that he and Duterte discussed the possibility of stronger relations.
"We have a full mutual understanding in this respect. Russia of course has a lot more experience in this field."
Moscow seems to have a growing interest in the promising Southeast Asia region, and some believe that having the populist Duterte as head of the Philippines is an opportunity for greater Russian-Philippine relations.
Diplomatic relations between the two countries were established only forty years ago, on account of the Philippines being firmly under American control. Regardless, several people, such as the Russian Minister of Foreign Affairs Sergey Lavrov believe that Russia-Philippines relations holds great potential.
Source: KAMI.com.gh