Our Miss Universe has it all – she's smart, funny, down-to-earth and impeccably dressed! Having once promised to give glory back to the Philippines, she gives back by picking original Filipino creations to grace her wardrobe.
This compilation of Philippine fashion designers and their creations is a run-down of how Miss Universe 2015 Pia Wurtzbach's showcase Filipino arts.
Read on!
1. Albert Andrada creations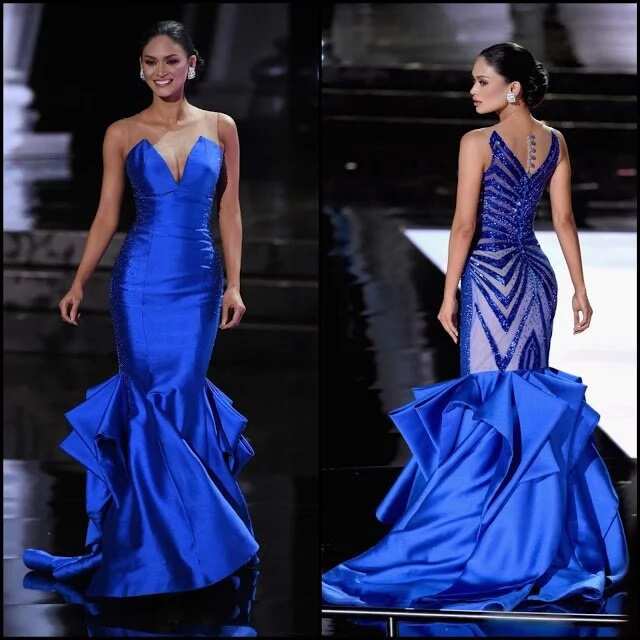 (Photo credit: http://nickverrreos.blogspot.com)
Pia's moment at the finals. Albert Andrada explained the design of the gown in detail:
"Tiny sapphire colored crystals are mixed with the bead work and cascade towards the front of the gown, representing beautiful sands of our beaches...the gown has a hem of draped multiple folds at the back, which are like fins of the different beautiful fishes found in Philippine waters. The color blue represents the tranquility of the deep blue Philippine seas as well as a tribute to Pia's queenly beauty. Blue was also her choice of color to wear to Miss Universe."
Absolutely gorgeous.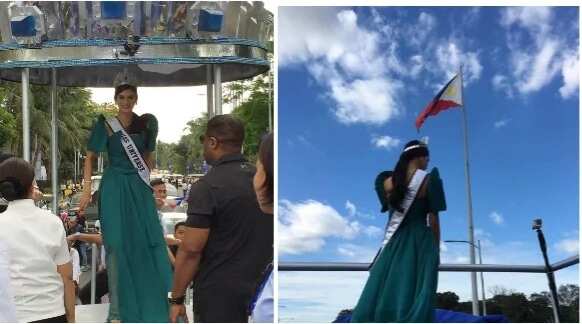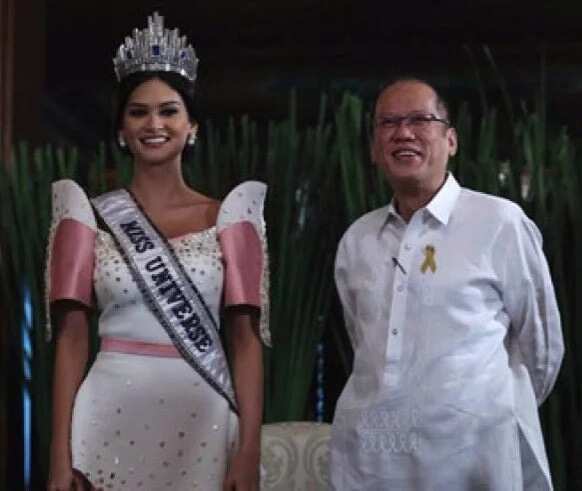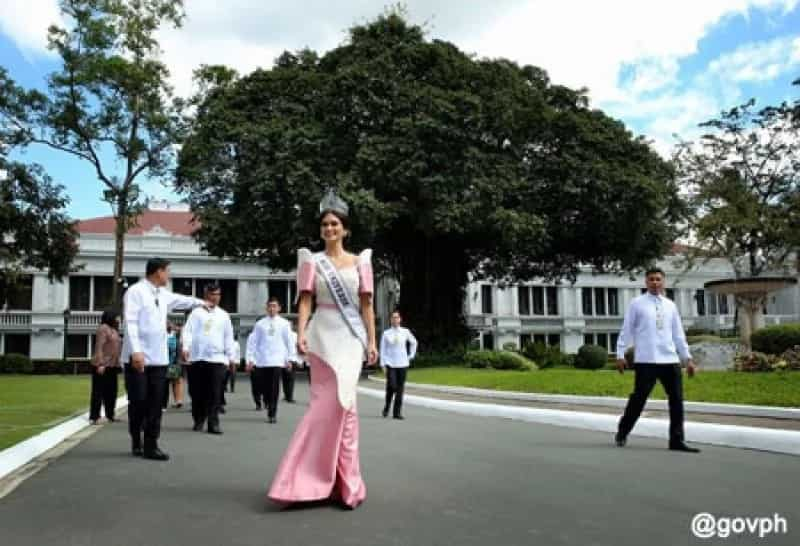 As she pays a courtesy call to the president at the Malacañang Palace, Pia wore a feminine pink and white dress by Albert Andrada. However, this gown was not well-received on social media as netizens got the impression of our beauty queen looking like a sundae or a cotton candy.
Nevertheless, Pia still looks stunning, doesn't she?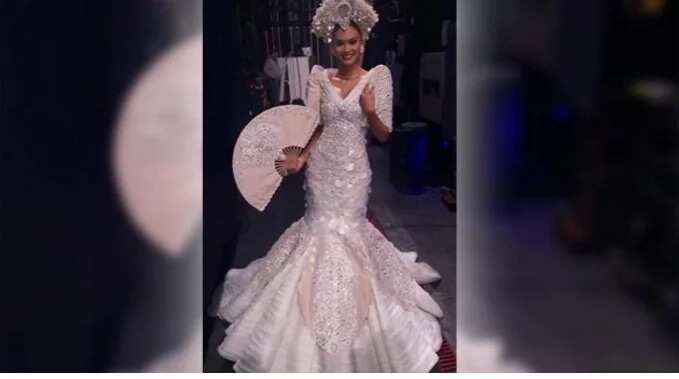 (Photo credit: stariraymagazine.com)
Albert Andrada's done it again – this stunning work of art, adorned with shells, pearls and a fan represents the hidden treasures of the Philippine seas. Before the competition, Albert gave fans a sneak peek insta post, describing the gown's ethereal design:
"Terno ensemble involves yards and yards of cocoon fabric and jusi with embellishments of pearls, capiz shells and crystals. Dangling capiz shells are added to give a more dramatic sound effect as she glides her way to victory. A crown inspired by the carnival queen of the early 1900s completes the epitome of a Filipina beauty queen…"
This is quite unconventional – Pia showed up to her official press conference in a black sheath dress with sheer fishnet fabric draped over it. Eye-catching and interesting – certainly one for the books! This unique dress was made by Albert Andrada.
2. Oliver Tolentino creation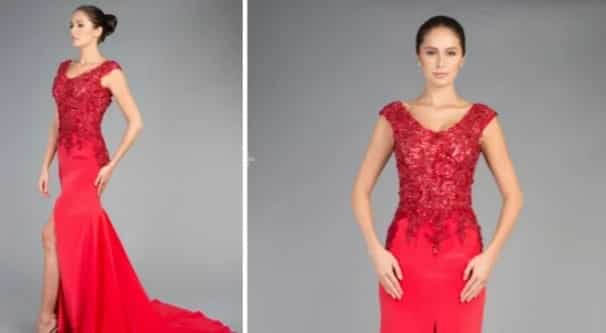 Pia took to the catwalk in this beautiful red gown by Oliver Tolentino. She wasn't originally planning to wear this – but with only a day before preliminaries, our beauty queen was rescued from this 'National Emergency'  by London-based Filipino designer Oliver Tolentino who was called from his skiing trip in Aspen. "I was told Pia loved a red-orange silk crepe de chine mermaid gown with a bodice fully embellished with red Swarovski crystals and a front slit at the center," he explained. "They said she loved it and felt good in it and was finally able to relax, which is so important the night before a candidate's preliminaries. I have no idea why this was all so last minute, but anyway, I was happy to help Pia and the Philippines, even though I was not there." You're a lifesaver, Oliver!
3. Bessie Besana creations
For the second part of the queen's homecoming parade at the Araneta Center, she changed into this lovely beige dress by Bessie Besana.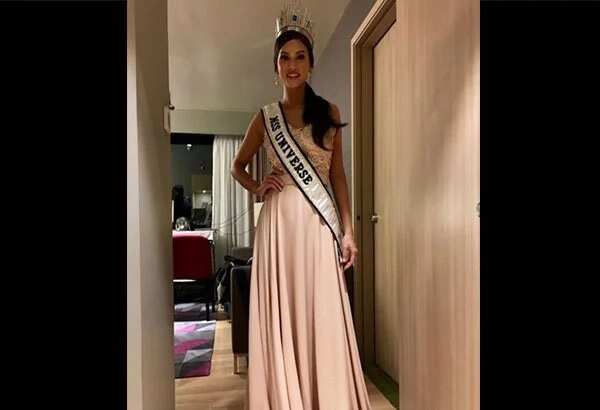 It was already dark by the time she made an appearance, but with such a radiant gown it wasn't too difficult to spot her! Bb. Pilipinas posted a picture of her on a float on twitter, and remarked that, "Her beauty shimmers into the night and turns it into day!"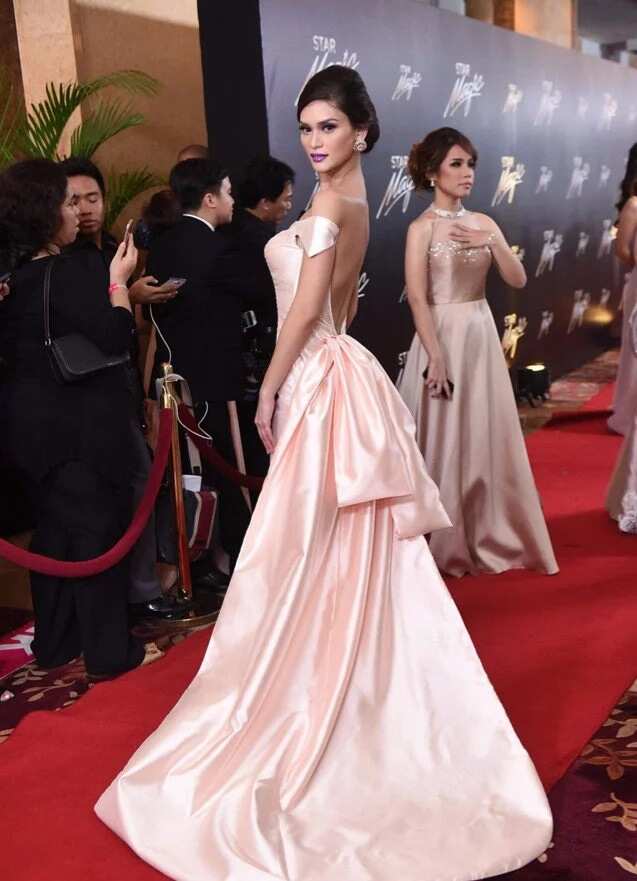 This classy and elegant gown was what Pia wore to the 9th Star Magic Ball. It was created by Bessie Besana. He describes the theme of the gown as "Old Hollywood Glamour", and elaborates the entire dressmaking process in his blog (bessiebesana.com):
"The fabric that I used for Pia is Poie de Soie Silk Gazar (and mind you, not the easiest fabric to work with!). With the advise of Tito Albert Andrada, I also decided to make a classic front with a surprise back. The style I gave her was an off shoulder because she said she wanted to highlight her collar bones. I made a deep-V back since I wanted the people to see how much determination she has to gain the "Miss Universe Figure" and shoo away people who might say she is just doing a corset to make it seem like. The dramatic train with big bows just completed my surprise back."
Bessie did a great job – that night, Pia made it to at least three best-dressed lists of different fashion groups!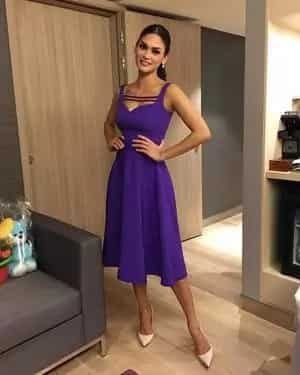 Pia isn't all about fancy floor-length gowns – she can rock a cute dress too! Here's the bright purple dress she wore for her series of interviews with ABS-CBN. Bessie Besana, the designer of the dress, described it as a "below the knee balloon shirt with a string connecting strap top."
Another Bessie Besana creation gives the "hot red" looks to Miss Universe 2015 as she plays the role of a correspondent for the Super Bowl.
Another Bessie Besana creation graces the Miss Universe's wardrobe as she poses for an endorsement photo shoot.
Pia Wurtzbach sports yet one more Besana creation, on her first day in Peru.
4. Monique Lhuillier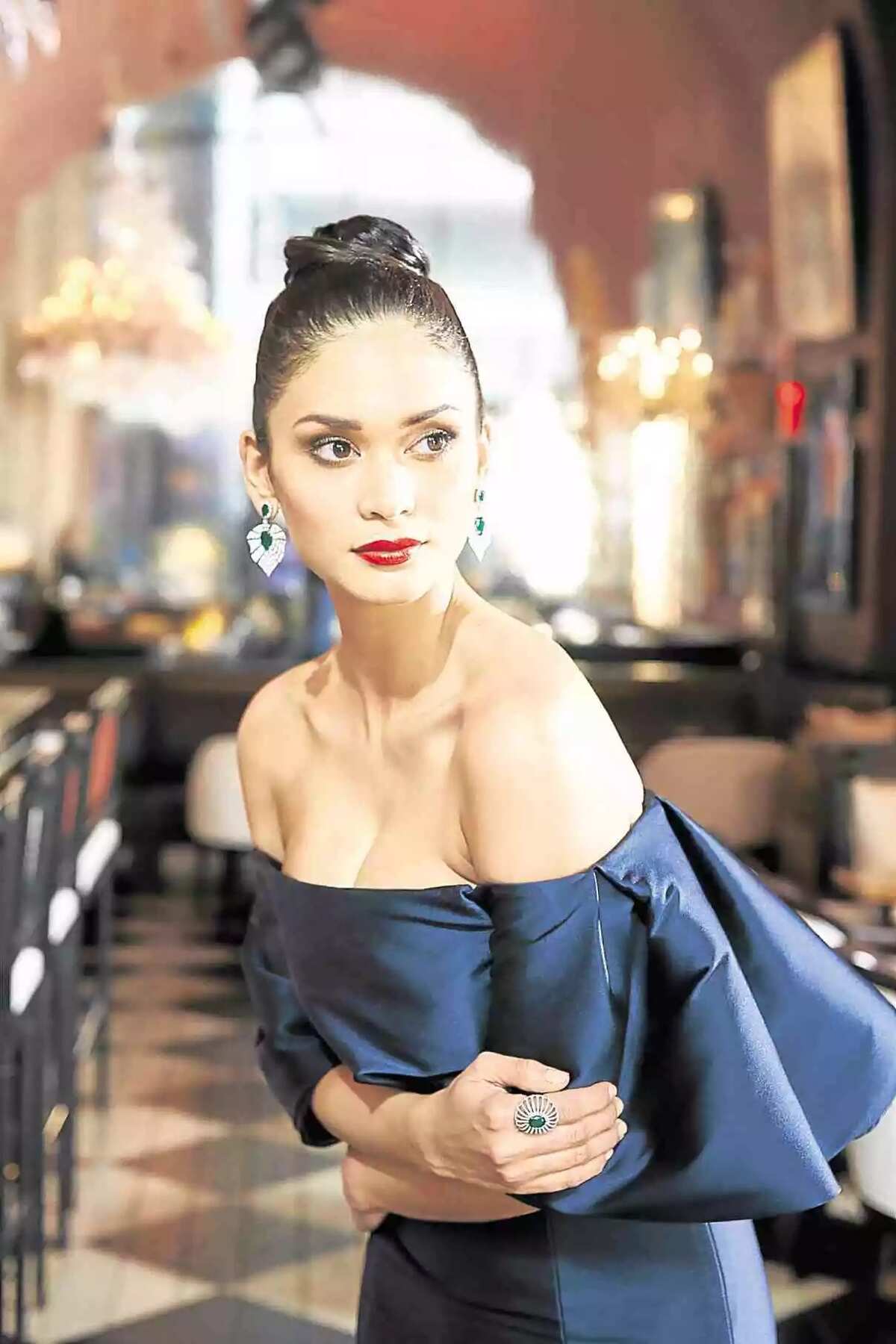 (Photo credit: inquirer.net)
In a collaboration with Monique Lhuillier, the 26-year-old beauty poses for Nigel Barker in a modern Filipina blue gown with the perfect hair bun.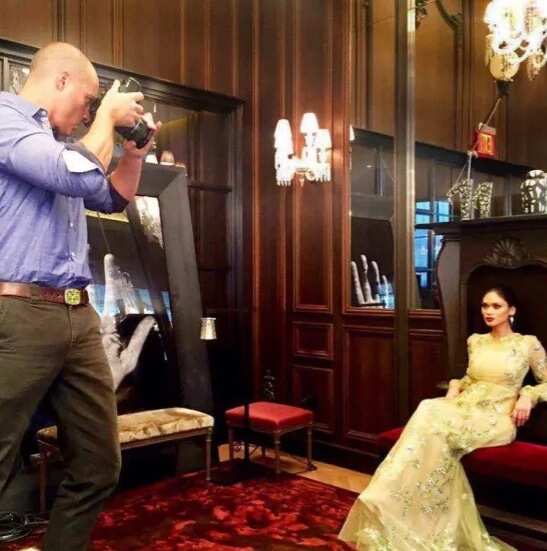 "I was very excited and nervous at the same time" Pia gushed when she found out that Nigel Barker will be the photographer at the collaboration with Monique Lhuillier for the Philippine Tatler.
5. Jot Losa creations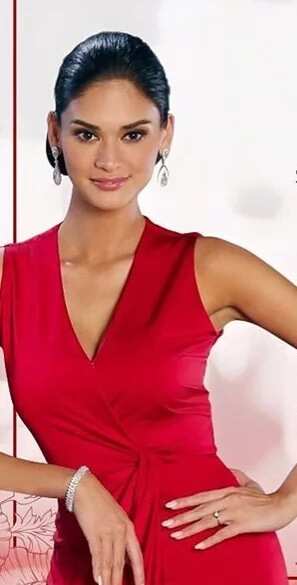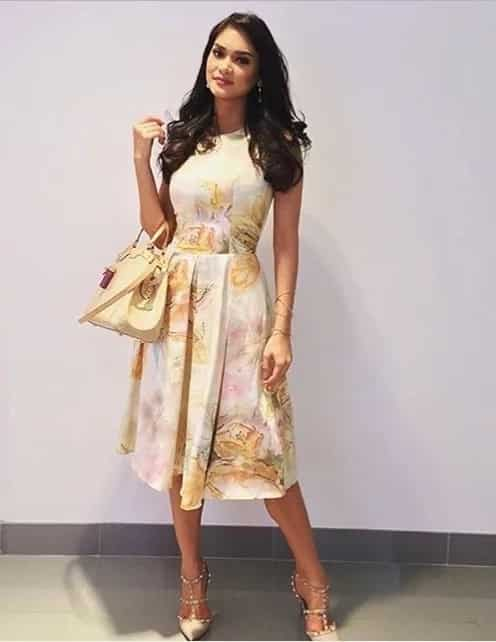 Pia Wurtzbach stuns in a Jot Losa creation at the @smile train luncheon.
From up-and-comers to household names, these fashion designers combined patterns or matching total-look sets for Queen Pia which we can all go to for the most stylish in the game right at this moment.
RELATED: Pia Wurtzbach, Dr. Mike's Filipino teacher?
Source: Kami.com.ph