Shymbulak Resort Hotel, ski map, accommodation, activities, price list, opening hours
Kazakhstan is probably home to some of the most amazing places with the city of Almaty, creating a reputation as a top tourist destination. Almaty prides itself with mountain ranges with picturesque peaks striped with ski runs and beautiful resort hotels. Almaty never ceases to amaze with a mixture of traditional and modern flair. Tourists usually find themselves mixing with locals for steamy Russian baths, enjoying diverse Kazakh traditional delicacies, but the best experiences come from places such as the Shymbulak Resort Hotel.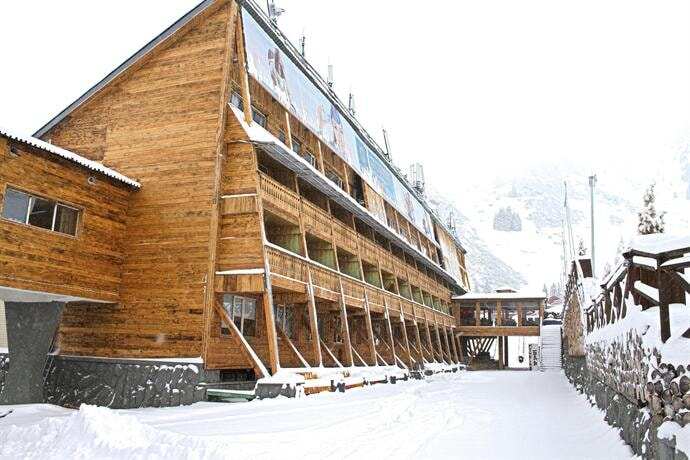 Those who have been to Almaty either for business or pleasure must have visited or heard of the Shymbulak Resort Hotel. The beautiful hotel is strategically located in Almaty City, the financial and cultural capital of Kazakhstan.
Almaty is mountainous, thus making it a popular destination for tourists, which in turn makes hotels to thrive. The Shymbulak Resort Hotel is at the center of all the action with activities such as outdoor relaxation, taking selfies with the Beatles, participating in winter sports, and tasting wild apples, among others.
Shymbulak Resort Hotel
The famous Shymbulak Resort Hotel is located on Gornaya Street 640 in Almaty, Kazakhstan. It is approximately 19.3 km from the city center. The location makes it ideal for mountain, nature, countryside, winter sports, and eco trip vacations.
The 25 km from Almaty International Airport also makes it convenient, especially for international visitors. The resort hotel is fully equipped with a restaurant, bar, excellent room service, breakfast in the room, packed lunches, kid meals, and special diet menus when requested. The beauty of the landscape makes Shymbulak camera-worthy; hence guests should bring one along when touring the place.
Why the Shymbulak Resort Hotel?
Immediately you touch down at Almaty International airport, the hotel can organize a shuttle to and fro the airport if you request for it. The hotel caters for family and individual vacations with a modern playground for children so that they don't get bored while exploring the area.
That aside, the resort managers are aware that after a long trip, visitors need rest. To cater for that, the hotel accords sauna reservations at any time of day. Moreover, food and drinks are availed by the resort staff when ordered.
When the day seems long, a ping-pong game is one of the activities you should consider to pass the time. Those in Almaty for business purposes will be pleased to know that there is a modern conference hall at the resort. Also, guests have access to the internet, and the restaurant meals are delicious.
Shymbulak ski map
Skiing is among the most common activities not only in Shymbulak Resort Hotel but the entire of Almaty as well. Therefore, guests must know the terrain very well, especially the areas where they can go skiing while vacationing in the city.
The resort is close to the Shymbulak Almaty cable car that transports people up and down the peaks. That is why the ski map is essential in making the trip even more memorable.
Accommodation
As you can expect, when it comes to Shymbulak accommodation, there are various categories of rooms available at the resort. Guests can pick one of the six rooms provided by the resort, but they must take account of how much space they need and the amount of money they wish to spend.
The room categories include suites, twins, family, and bed in the dormitory. Once you book accommodation, you get access to facilities such as telephone, free toiletries, hairdryer, refrigerator, flat-screen TV, electric kettle, and spa bath, among others. Book your room depending on the view you want, be it a mountain view or city look.
Shymbulak activities
The range of activities provided at the Shymbulak Resort Hotel is limitless. Most of those activities are outdoors, but there are other activities for guests who would instead remain indoors during their vacation.
The available activities include ski-to-door access, ski pass vendor, on-site ski equipment hire, ski school, ski storage, horse riding, cycling, hiking, skiing, and table tennis.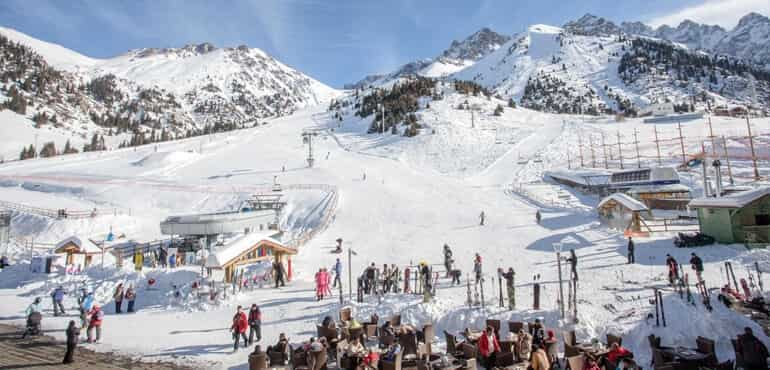 Shymbulak price list
The price varies based on the number of people and the types of offers and discounts available when one is booking.
To access the price list for Shymbulak booking, contact the hotel personnel, and they will give you the full information on the price list and booking.
Opening hours
The front desk at the Shymbulak Resort Hotel is open 24 hours a day for visitors who want to check-in or out, so there is no need to worry about Shymbulak opening hours.
However, as per the resort policy, check-in time is from 14:00 to 15:00, while check-out time is from 03:00 to 12:00. This information is vital for pricing, especially for those who arrive or leave at odd hours.
Important things to know
Check-in time is from 14:00 to 15:00, while check-out time is from 03:00 to 12:00.
The resort opens its doors to children, but for each room, only one child can use existing beds. Only one additional extra bed is allowed per room, and cribs are not permitted.
Parking is not available on-site at the resort.
According to hotel policy, pets are not allowed.
Payment is made either through Visa or MasterCard.
The Shymbulak Resort Hotel is one of the most prestigious hotels in Almaty, the capital of Kazakhstan. The resort caters to all kinds of guests, such as lone troopers, couples, families, or even groups. Apart from accommodation, there are many other facilities such as outside pools, flat-screen TVs and a children's playground, among many others. Although parking is not provided on-site, the resort can make arrangements for shuttle transport to and fro the airport at an extra cost. Next time you plan a trip to Shymbulak Almaty Kazakhstan, you can boast having knowledge of where to stay and the activities to partake while there.
Source: KAMI.com.gh