45 WWII Veterans Will Be Honored On Veterans Week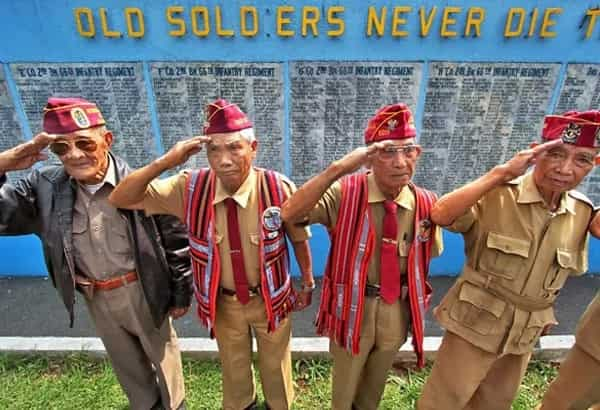 Retired general Restituto Aguilar, chief of the memorial and historical division of the Philippine Veterans Affairs Office, said on Friday that 45 veterans will be rewarded for their heroism this coming Philippine Veterans Week, starting April 5.
He said that the number is much higher than last year's which was at around 30. There will also be some posthumous awards, amounting to around 25 veterans.
Aguilar said:
"More than the monetary value, this is a way of thanking them while they are still alive. What is important is they are recognized for their contribution during a time that the country needed their service,"
He emphasized on the need to acknowledge everyone as much as possible, considering that most of the veterans are bedridden.
"There are 9,500 veterans still alive and the casualty rate is 3,500 per annum. In three years, there will only be hundreds left," he further stressed.
Aguilar has also lamented on the lack of focus that the generation today gives to the sacrifices of the veterans of WW2.
"Because of the advancement of technology, there is less focus on the valor of our heroes… That's why we are trying to help bring consciousness of the importance of their sacrifices," he said.
Defense Secretary Voltaire Gazmin will lead the onset of the Philippine Veterans Week on April 5 at the Libingan ng mga Bayani. Other activities include a review in honor of the veterans, a battalion-sized contingent from the AFP (Armed Forces of the Philippines) will perform the review and veterans are paraded and accorded honors at par with high-ranking military officers and visiting dignitaries who are entitled to such honor in Fort Bonifacio on the same day.  The tribute to Filipino heroes will be held on April 7 on Corregidor Island. President Benigno Aquino III will lead the celebration of the "Araw ng Kagitingan" at Mt. Samat in Bataan on April 9.
photo from metrocebu.com.ph
Source: KAMI.com.gh