TESDA courses, website, application form, branches, how to enroll
TESDA courses are undoubtedly some of the most marketable ones at the moment. With quality at its forefront, each year, the agency witnesses an increasing enrollment into some of the accredited institutions.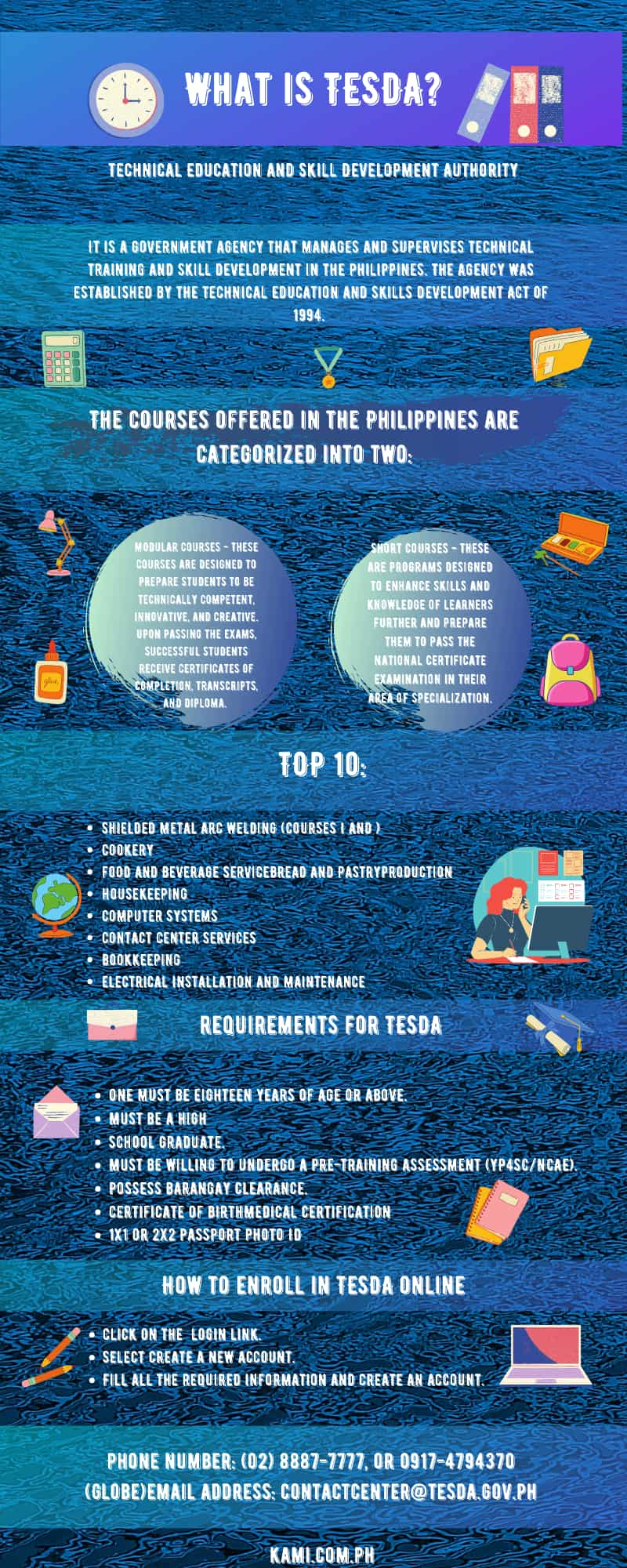 Different courses are offered in their accredited private and public centers. Here is what you need to know about the authority, the courses, fees, and branches.
What is TESDA?
It is a government agency that manages and supervises technical training and skill development in the Philippines. The agency was established by the Technical Education and Skills Development Act of 1994.
The purpose of its establishment was to encourage the industry, labor, trade, and local government units to collectively participate in developing training programs for skilled workers in the country.
The authority has integrated the functions of three related government institutions and programs, They include:
National Manpower and Youth Council
Bureau of Technical Vocational Education of the Department of Education
Apprenticeship Program of DOLE
TESDA meaning
TESDA is an acronym for Technical Education and Skill Development Authority. The authority provides training, standards, programs, and policies towards technical training and skill development.
It is the overall controller and manager of the Philippine's Technical Education.
TESDA branches
Since its establishment, TESDA Philippines has expanded and extended its presence in various parts of the country. At the moment, the authority has many branches in the Philippines. They are given names according to the regions in which they are located.
What are the courses in TESDA?
TESDA courses last for days or months. The methods and school of study determine the time.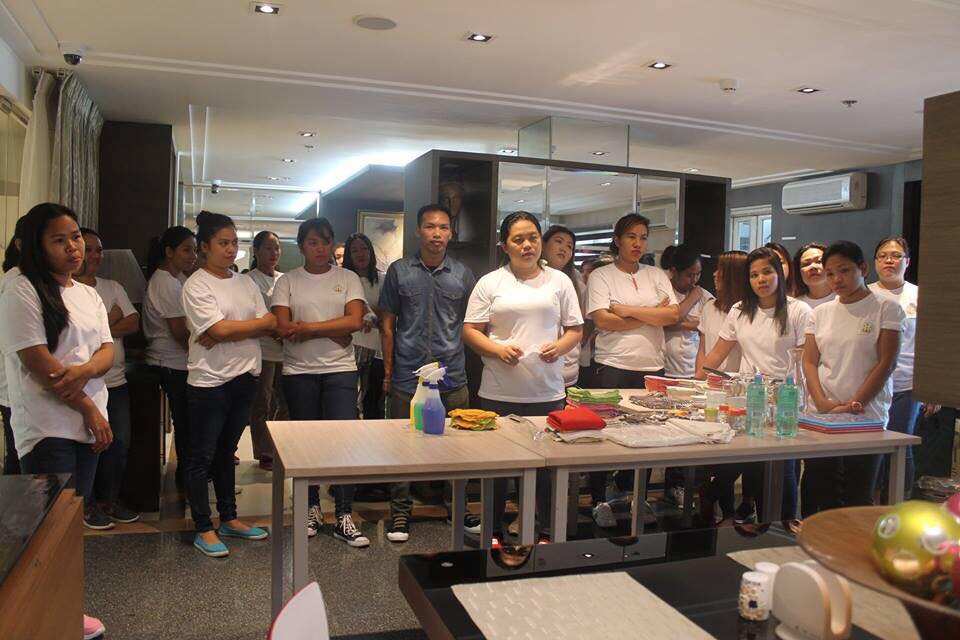 The courses offered in the Philippines are categorized into two:
Modular courses - These courses are designed to prepare students to be technically competent, innovative, and creative. Upon passing the exams, successful students receive certificates of completion, transcripts, and diploma.
Short courses - These are programs designed to enhance skills and knowledge of learners further and prepare them to pass the National Certificate Examination in their area of specialization.
Under the above categories, there are several courses offered. Below are the top ten courses:
Shielded Metal Arc Welding (Courses I and II)
Cookery
Food and Beverage Service
Bread and Pastry Production
Housekeeping
Computer Systems Servicing
Contact Center Services
Bookkeeping
Electrical Installation and Maintenance
TESDA online courses
The Technical Education and Skill Development Authority has an online program that aims to make its services easily accessed by most of the Filipinos. TESDA Online Program (TOP) offers an effective and efficient way to deliver technical education and skills development services to all learners at a lesser cost.
READ ALSO: Trinity University of Asia location, application, courses, tuition fee (2020)
Free Webinar Registration
CPSC TVET Webinar Registration
FREE Amazon Web Services (AWS) TechTalks
Webinar Series On SEAMEO Response to COVID-19 Pandemic
21st Century Skills
Communication
Environmental Literacy
Agriculture
e-Learning for Agriculture and Fisheries
Fruit Grower
Automotive
Automotive Course from Labtech
Diesel Engine Tune-Up
Automotive Battery Servicing
Entrepreneurship
Start and Improve Your Business
STAR Online Training Program
Managing Your Personal Finances
Electrical and Electronics
Computer System Servicing
Solar Night Light Assembly
Heating, Ventilation and Air Condition
Packaged Air Conditioner Unit Servicing
HVAC by Labtech
Human Health/ Health Care
Information and Communication Technology
ICT Courses
Microsoft Online Courses
Udemy Courses
Web Development using HTML5 and CSS3
Lifelong Learning Skills
Job Interview Skills Training Course
Skills to Succeed Academy
Maritime
Ships' Catering NC III (Updates)
Process Food and Beverages
Social, Community Development and Others
Beauty Care Services (Nail Care) NCII
Tourism
Bread and Pastry Production NC II
Cookery NC II
Food and Beverage Services NC II
Front Office Services NC II
Housekeeping NC II
TVET
Trainers Methodology I
Trainers Methodology II
What are the requirements for TESDA?
The authority regulates both private and public registered institutions. It has, therefore, put in place a set of requirements to be met if one wishes to pursue training in the institutions. The requirements are as follows.
One must be eighteen years of age or above.
Must be a high school graduate.
Must be willing to undergo a pre-training assessment (YP4SC/NCAE).
Possess Barangay Clearance.
Certificate of birth
Medical certification
1x1 or 2x2 passport photo ID
However, it is essential to note that some private institutions may ask for additional requirements other than the ones listed above. Kindly visit the institutions and find out the other documents they may need.
Enrollment procedures in TESDA
There are two ways of how to enroll in TESDA. You can decide to do it online to visit an accredited institution.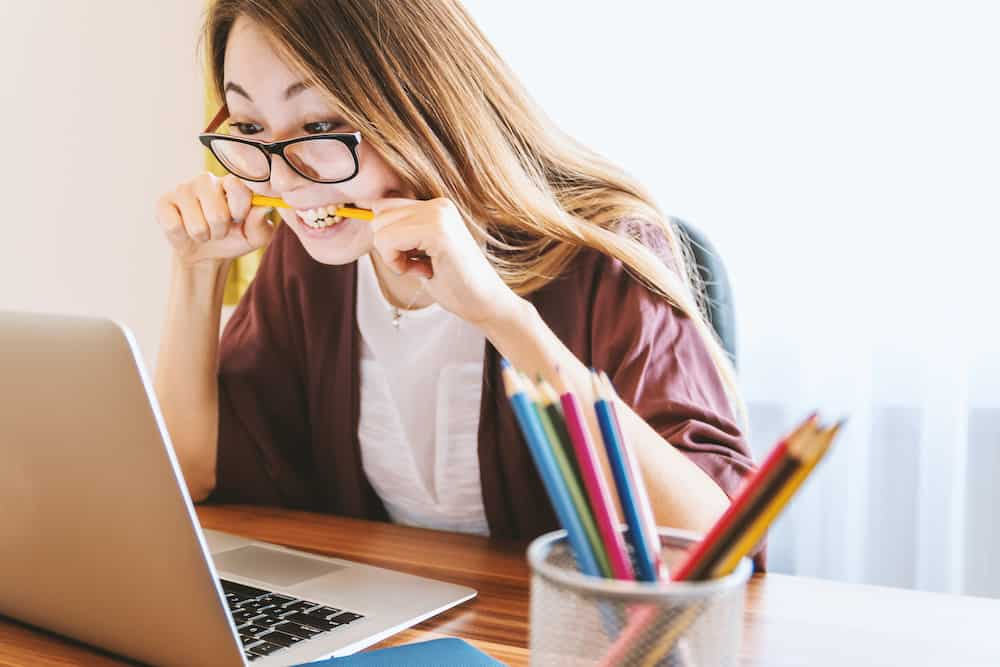 For example, if you wish to enroll for a short course, you can follow the steps enumerated below.
Visit the nearest TESDA accredited institution.
Ask about the availability of the training of your choice.
If it is available, you will be given an entrance examination of the course of your choice.
Upon passing the examination, you will be asked to hand in a list of requirements.
Once you have availed all the requirements, you will be contacted over a phone call, and you will be informed as to when you will begin the training.
READ ALSO: Our Lady of Fatima University courses, admission, tuition fee, address (2020)
How to enroll in TESDA online
An alternative way of enrolling is online. However, before doing so, you will be required to create an account on the TOP website.
To register,
Click on the Login link.
Select Create a new account.
Fill all the required information and create an account.
Once you are registered in the system, you can enroll in the online program of your choice and fill the TESDA application form online. You can do so by following the steps below.
Login to your account. You will be redirected to TESDA online program homepage where you will see the list of courses.
Click the course you want to take.
Courses are divided into modules.
\Select the link of the module you want to study.
At the lower-left tab, you will read Enroll me in this course.
Confirm your enrollment by choosing 'YES' in the popup window.
How much is the tuition fee in TESDA
The online courses under the TOP program are available for free. However, the vocational classes are offered at a fee. The tuition fees are accessible through the TESDA website. You can visit the site to establish the charge for your course of choice.
TESDA scholarship
The authority offers scholarship programs for students who enroll in some of their programs. The scholarship programs available include;
Training for Work Scholarship Program (TWSP)
Private Education Student Financial Assistance (PESFA)
Special Training for Employment Program (STEP)
Each program has different sets of requirements that must be met by the applicants.
What is TESDA contact number?
The Technical Education and Skill Development Authority has contact information available for anyone who wishes to get in touch with them. You can contact the agency through a text, a call or email.
Below is the contact information.
Phone number: (02) 8887-7777, or 0917-4794370 (Globe)
Email address: contactcenter@tesda.gov.ph
TESDA has significantly improved skill development and training in the Philippines. It offers several courses, some of which could be studied online. With a flexible time and fee, you can enrol in some of its programs.
READ ALSO: UP Open University: courses and location
Source: KAMI.com.gh