Samsung Galaxy S10 is perhaps one of the most beautiful and exciting phones you will ever come across. The phones polished top and back grants it the aesthetics it deserves. If you are looking for a classy and eye-catching device, look no more.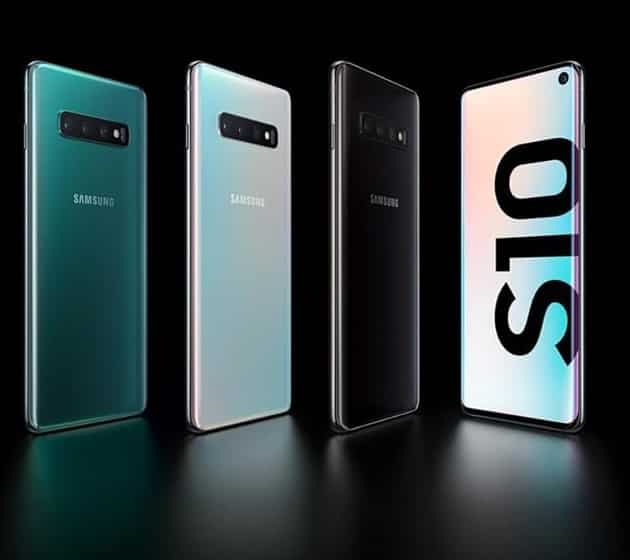 The phone comes with a RAM of 8GB and a widescreen. You will undoubtedly enjoy playing games and watching videos on this gadget. It is readily available in the market, and the price of Samsung Galaxy S10 in the Philippines ranges between P6000 to P42000.
Samsung Galaxy S10 overview
Historically, Samsung is known for its quantity and quality in the android world. It has excellent software, clear cameras, and attractive hardware. Whereas these are some of the classy features you might expect in Samsung Galaxy S10, there are highs and lows too worth your attention on this particular gadget.
The goods
The phone has the following advantages.
It has spectacular Infinity-O display.
It has an outstanding thin and light glass design.
It has a wireless power share capable of charging other Samsung devices.
It has a fingerprint sensor located in-screen.
It possesses unique multi-colors.
The bad
It has the following disadvantages.
Its battery life is low and only limited to an average performance.
Its fingerprint reader position and experience may be dissatisfying to some users.
Its selfie camera is unsatisfactory compared to that of Samsung Galaxy S10 Plus.
It is expensive.
Samsung Galaxy S10 specs
Here are some of the Samsung Galaxy S10 details worth your attention.
Release date: March 8th, 2019
Screen size: 6.1 inches
Screen display: Super Dynamic AMOLED
Screen resolution: 1440 x 3040 pixels (550 PPI)
Body material: Glass front, glass back, and ceramic frame
Operating system: Android 9.0 (pie)
Memory: 8 GB RAM and 128 GB ROM
Expandable memory: MicroSD of up to 512 GB
Rear camera: 12 megapixels + 12 megapixels + 16 megapixels
Front camera: 10 megapixels
Battery: Non-removable 3,400 mAh Li-ion battery
Processor: Qualcomm Snapdragon 855 or Exynos 9820
Dimension: 149.9 mm x 70.4 mm x 7.8 mm
Weight: 157 grams
Connectivity: Wi-Fi 6, USB – C, Bluetooth 5.0, and A - GPS
Network: 2G + 3G + 4G
Sensor: Heart rate, fingerprint, proximity, accelerometer, compass, gyroscope, SpO2, and barometer
Color varieties: Prism black, canary yellow, prism white, prism blue, flaming pink, prism green
Hardware
Samsung has always focused greatly on the aesthetic value of its gadgets. Its colorful display and brilliant design are some of the luring features which can not escape the eye.
READ ALSO: Google suspends Huawei from using Android and other Google apps after Trump's blacklist
Design
As a leading manufacturer of smartphones, Samsung designs are some of the best in the industry. Samsung Galaxy S10 has a SIM slot positioned adjacent to the microSD card. The earphone jack is located at the bottom of the phone next to the USB port.
The gadget has an Infinity-O display screen with a front and back made of glass. It also has a thin ceramic frame that separates the front from the back. The cameras are located on the edges to improve the photo qualities through laser cutting technology.
Its dimensions of 149.9 mm x 70.4 mm x 7.8 mm and weight of 157 grams are sufficient for holding and carrying around. The Super Dynamic AMOLED screen provides enough color contrast during the night as well as in the day.
It comes in a range of colors. They include prism black, canary yellow, prism white, prism blue, flamingo pink, and prism green.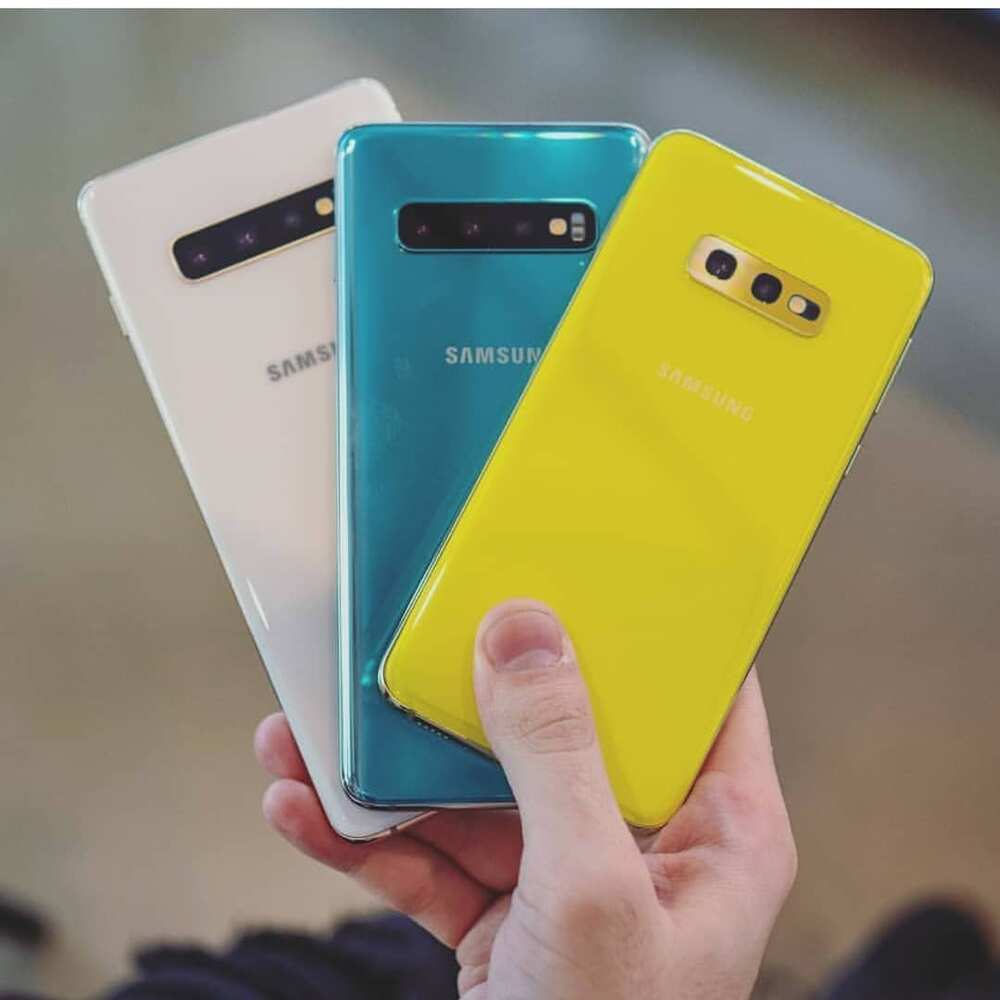 Display
It has a 6.1 inch Super Dynamic AMOLED screen display. The screen has a resolution 1440 x 3040 pixels and a spectacular Infinity-O display which grants the users impressive viewing experience. It is bright with the light sensor to control the brightness depending on the light in the ambient.
With this screen, the device is excellent for watching videos and playing games on. A Corning Gorilla Glass v6 protects it. This protection ensures that the phone survives breakages whenever is falls.
Processor, storage, and performance
Samsung Galaxy S10 is powered by Qualcomm Snapdragon 855 in the United States and Exynos 9820 in Europe. All the versions have a RAM of 8GB, which is enough to run large apps. Numerous apps can run in this memory without the phone lagging. The gaming experience on this phone is also otherworldly.
The internal storage capacity is 128GB, which can be expanded to 512GB with a MicroSD card. It gives users enough space to store documents, photos, movies and music.
Samsung Galaxy S10 battery
The Galaxy S10 has a 3400 mAh battery. This capacity is slightly below that of Samsung Galaxy S10 Plus, which is 4000 mAh.
The battery is good for average users. However, if you are one of those who loves to play music, watch videos, and play games, this particular phone may be a letdown. It will revert to battery saving mode on heavy usage. Nonetheless, it can withstand a day-long usage when fully charged.
The phone supports the Wireless Power Share that charges faster compared to the ordinary versions. This technology enables it to charge other Samsung wearable gadgets without requiring a cable.
READ ALSO: Converge Internet review, plans, contact, how to apply
Speaker and call quality
The 3D Dolby Atoms enhanced stereo speakers treats the users to quality sound for audio and calls. They can comfortably listen to audio files as well as have a clear conversation during calls.
Software
Samsung Galaxy S10 has luring software features. The cameras, operating system, and network connectivity are the envy of many phone manufacturing companies. Here are the software features you can expect to find in this particular gadget.
Operating system and features
Galaxy S10 runs on Android 9.0 (pie), and the android software is revamped under a new label tagged One UI. It sensibly shifts all the interactive elements of the user interface into the lower-third of the screen where they are within easy reach. The operating system can be upgraded to Android 10.0.
For security, it has a biometric sensor located the edge-to-edge screen on the front of the handset. This sensor is more reliable compared to that of its competitors since it records every single ridge in your fingerprint.
Samsung Galaxy S10 camera, video, and image quality
Samsung has been known worldwide for a strong reputation in the camera section. For the past few years, its innovations and image quality have been improving significantly.
At the back of the phone, it has a triple-lens system which comprises of a 12-megapixel camera with OIS - Optical Image Stabilization. This camera has a variable aperture which can switch from f/1.5 and f/2.4. It also has a 16-megapixel f/2.2 ultra-wide sensor and a 12-megapixel telephoto lens with f/2.4. Additionally, it has a good selfie camera of 10 megapixels.
Whether you are using the front or rare camera, the focus is achieved in a snap and photos taken in an instant.
Samsung Galaxy S10 review
Since making its way into the market on March 8th, 2019, the gadget has been used by several people. Some of them have pointed out the good and bad of the phone. Check out below some of the reviews.
Maggi: Good to hear. S10, s10 us and s10 e got the update. Yes the features in camera are great. Also the keyboard features gallery etc. Power button at top of quick panel is handy instead of holding power button on side to turn off phone which is go...
PSC19: Yes even I got it. It has now support for 1080 (60fps),4k(60fps) on the front camera and has slight improvement in the camera interface.
What is Samsung Galaxy S10 price in the Philippines?
The phone is sold at an amount ranging from P6,000 to P42,000. The lowest price of this particular gadget can be found at Lazada. However, you can choose between Samsung Galaxy S10 with 128GB Prism White starting from P 42,000.00 and 128GB Prism Black at P 20,328.82.
Samsung Galaxy S10 accessories
To unlock the full potential of Samsung Galaxy S10, you will need to have the right accessories. They include the following.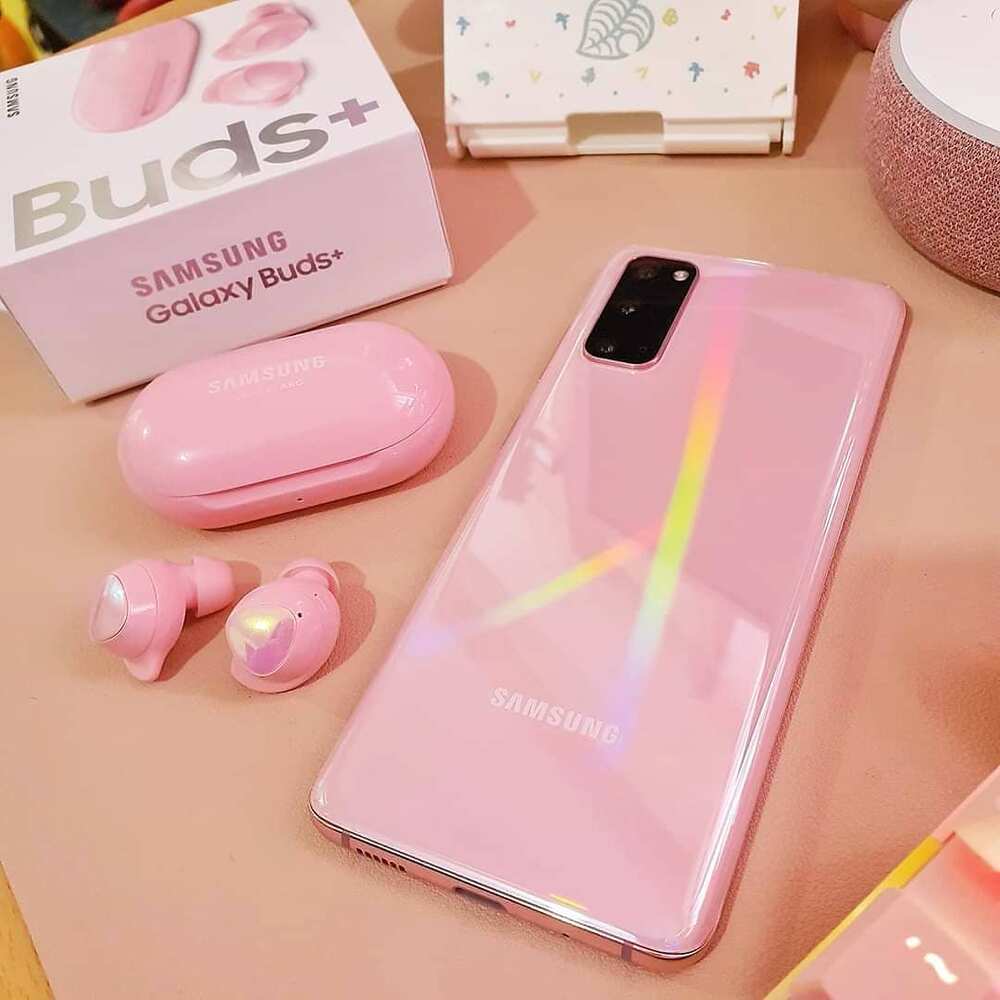 Anker fast wireless charger
Whitestone Galaxy S10 screen protector for an ultrasonic fingerprint reader
Libratone Q adapt in-ear noise-canceling headphones
Energizer ultimate 1000 Series 10W wireless charging power bank
Samsung EVO 512GB microSD card
iOttie smartphone car mount
iRag CRS1 quick charge car charger
PopSocket phone grip
Totallee Thin case
Samsung Galaxy Buds
Verdict
Samsung Galaxy S10 is yet another excellent gadget by Samsung. The phone's high RAM and internal storage capacity have taken the smartphone competition to a whole new level. The aesthetic appeal and battery are a considerable improvement compared to the last version.
As much as it is expensive, this is undoubtedly the one you should go for. It has a clear call conversation as well as audio, and it also provides an excellent platform for one to enjoy playing games on the phone.
In modern times, phone manufacturing companies are doing all they can to ensure that they remain top in as far as development and innovation are concerned. The new Samsung Galaxy S10 typifies the extent to which this competition has reached. The phone's hardware and software features are luring. It is indeed the kind of smartphone that gives you the value of your money.
READ ALSO: Top 9 cheapest alternatives for AirPods Pro