You have probably heard of Joe Biden, the man on a mission to unseat President Donald Trump in the most powerful seat in the entire world. The Scranton native is very accomplished in many spheres of life inside and outside politics. Most notably, he was the vice president to America's first black president, and that is a piece of history he will be proud of as long as he lives. That said, Biden is not the kind of man that would be contented with the status quo. He wants more, and this time it is he who wants to take over from where president Obama left almost four years ago.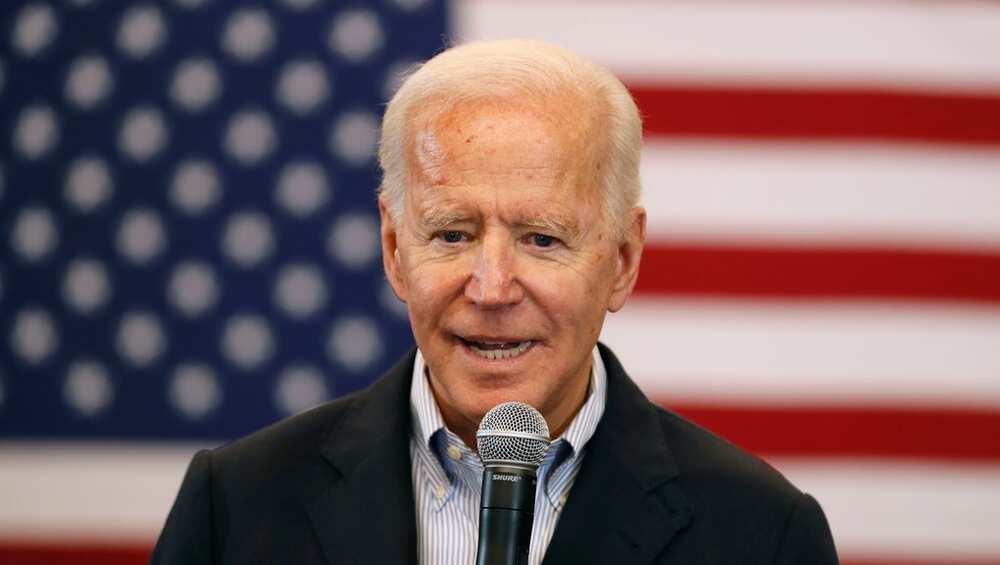 It has been said before that politics is not for the faint at heart, especially if you are running against a man such as Donald Trump. Trump has shown the propensity of digging any and every dirt on his opponents just to bring them down and Biden has been no exception.
Everyone remembers the flopped Trump impeachment that was informed by the current president's ambitions that led him to withhold aid so that Ukraine could investigate Joe Biden in an alleged corruption scandal. Trump walked free from that impeachment, but he must have learnt a lesson on the kind of man he will be dealing with if he clinches the Democrat presidential ticket.
Joe Biden profile summary
Name: Joe Biden
Birth name: Joseph Robinette Biden Jr.
Date of birth: 20th November, 1942
Place of birth: Scranton, Pennsylvania
Joe Biden age: 77 years old
Joe Biden birthday: 20th November
Birth ign: Scorpio
Joe Biden biography
Joseph Robinette Biden Jr. was born on 20th November 1942 to Joseph Biden Sr. (father) and Catherine Eugenia "Jean" Finnegan (mother). The accomplished politician grew up in Scranton, Pennsylvania, a blue-collar city. His father was a furnace cleaner and a used car salesman.
His parents taught him to be sturdy, hardworking and persevering – attributes that came in handy in his political career. For his education, he attended the St. Helena School, St. Paul's Elementary School, University of Delaware, Syracuse University Law School and Archmere Academy.
While growing, He had challenges with a stutter and because of that other kids called him "Dash" or "Joe Impedimenta" just to mock him. He overcame the speech impediment by memorizing and reciting long passages loudly in front of the mirror.
Since his family could not afford the tuition for the prestigious Archmere Academy, he had to work at the school washing windows and weeding gardens to cater for some of the fees until he graduated in 1961. Joe Biden career has been as a politician for almost all of his adult life.
Joe Biden wife
The short walk into marriage for him and his first wife started during a spring break trip to the Bahamas. At the time he was in his junior year at the University of Delaware studying history and political science. On that trip, he met a Syracuse University student by the name Neilia Hunter and for him it was love at first sight.
He has been recorded as using the phrase "fell a*s over tin cup in love – at first sight." It is the love for this lady that made him give up on partying and instead focus on his studies which is how he got accepted into the Syracuse University Law School in 1965.
Joe Biden and Neilia Hunter got married in 1966 and begin a family together. Unfortunately, his wife died in 1972, leaving him devastated and even contemplated suicide. He married his second wife, Jill Biden, in 1977. Joe and Jill welcomed their daughter, Ashley, in 1981.
READ ALSO: Billy Crawford bio: age, height, net worth, wife
Joe Biden children
Joe has tried to keep his family away from the limelight, but with his position, it is impossible to achieve that. He had three children with his first wife namely Joseph Biden III who was born in 1969, Hunter Biden who was born a year later in 1970 and Naomi Biden, born in 1971.
In the 1972 family tragedy, Biden's family got involved in a terrible car accident that claimed the lives of his wife and daughter. His sons survived but was left with severe injuries. He had just signed in the senatorial race at the age of 29 and had to take the oath of office from his son's hospital room.
Joe Biden son Joseph Biden III, died from cancer in 2015. He also has a daughter, Ashley, conceived by his second wife, Jill.
Policies
The United States Senate benefited from the over three decades of service he was a senator. During that time, he became one of the leading foreign policy experts earning the respect of his colleagues. He served as the chairman of the Committee on Foreign Relations for several years.
Joe Biden policies such as strategic arms limitation with the Soviet Union, peace and stability in the Balkans, the expansion of NATO through the inclusion of former Soviet-bloc nations and opposition of the Gulf War will always make him memorable.
He has also been credited with the call for American action to end the Darfur genocide and speaking out against President Bush's approach to the Iraq War. Joe Biden and Obama would eventually pull American troops out of Iraq.
READ ALSO: Elizabeth Warren bio: accomplishments, policies, age, net worth, children
Net worth
As of 2020, Joe Biden net worth stands at $9 million. Since he has spent most of his adult life in politics, most of his wealth must have probably come from his salary as a senator and vice president of the United States of America.
When he was finishing his term as vice president, he is believed to have had a net worth of $1.5 million. He has always referred to himself as one of the most impoverished politicians. After exiting the White House, Joe and Jill Biden are believed to have earned not less than $15 million through speaking engagements and book deals. For instance, in 2017 alone, they earned $11 million in adjusted gross income. In 2017 and 2018, they gave up to $1.2 million to charity.
Accomplishments
Joe Biden career has been a long one with many accomplishments he is proud of. Although he may not be as active on social media as the current president, Joe Biden Twitter account and other social media platforms show his accomplishments and things he intends to achieve if elected president. Here are some Joe Biden accomplishments:
He served as the vice president of the United States from 2009 to 2017.
He was the 5th youngest senator in the US serving from 1973 until 2009 becoming Delaware's longest-serving senator.
He was the chairman of the Senate Committee on the judiciary from 1987 to 1995.
Introduction of a bill that led to the Violence Against Women Act of 1990 to address se*ual assault and domestic violence.
He was the chairman of the senate foreign relations committee from 2001 to 2003 and 2007 to 2009.
He published a memoir "Promises to Keep: On Life and Politics" in 2007.
In 2017 he was issued with a Presidential Medal of Freedom by President Obama.
Joe Biden presidential campaign to be the 47th President of the United States may lead him to even a more significant path if he wins the election.
Joe Biden has had a very accomplished career, but he is yet to hang his boots until he gets to the very top. He is a man who never gives up even when the harshest of challenges are thrown to him. The very first time he was elected as a senator, he lost his wife and daughter to a road accident. That did not stop him from taking the responsibility bestowed upon him by his constituents. Even though his son's death made him not to run for the presidency in 2017, he is back on track and looking like the next Democrat flag-bearer for the upcoming elections. Furthermore, the rate of Joe Biden endorsements can only be a good sign that he will have the full backing of his party.
READ ALSO: Mike Pence bio: wife, children, net worth, accomplishments, net worth