Jill Biden bio - Who is Joe Biden's wife
There is the saying that, behind every successful man, there is a woman. This applies to the 47th vice president of the United States of America Joe Biden. Jill Biden is the woman behind Joe's success. She has stood up with him through thick and thin.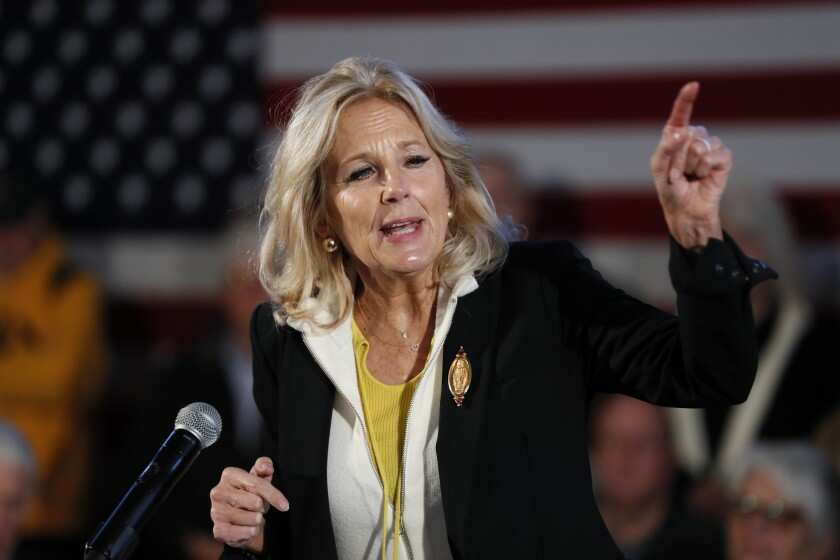 Professor Jill Biden is the former second lady and the wife of the former 47th USA vice president Joe Biden. The American-born educator is the co-founder of the non-profitable organization dubbed Biden Breast Health Initiative (BBHI). While she was in power, she advocated for community college outreach and military families using her position as the second lady. Here is more to this amazing lady.
Jill Biden profile summary
Full name: Jill Tracy Jacobs Biden
Nickname: Jill Biden
Date of birth: 3rd June 1951
Place of birth: Hammonton, New Jersey, U.S.A
Jill Biden age: 68 years
Birth sign: Gemini
Nationality: American
Ethnicity: White
Jill Biden height: 5 feet 5 inches
Marital status: Married
Occupation: Political wife, educator
Biography
Jill Biden was born on 3rd June 1951 as Jill Tracy Jacobs in Hammonton, New Jersey in the United States of America. She was born to her father, Donald C. Jacobs and her mother, Bonny Jean Jacob. Her father worked as a bank teller while her mother was the homemaker.
She is the eldest daughter among Jacob's five daughters. Jill and her four younger siblings were brought up in WilloGrove, Pennsylvania.
She attended Upper Moreland High School and later on enrolled in Junior College to undertake a course in Fashion Merchandising. She did not find the course fulfilling hence she opted to leave it for another course.
She joined the University of Delaware where she majored in English. While at the university, she took a break to pursue modeling. In 1975, she graduated from Delaware University with a bachelor's degree in Arts. In 1981, she graduated with a master's degree in Education from West Chester University.
Jill Biden husband
Doctor Jill Biden has been married twice and also raises children from her former husband's marriage.
First marriage
Initially, she was married to college footballer Bill Stevenson. The two tied the knot in February 1970. After a few years of marriage, the two had their divorce.
Second marriage
After the divorce, Jill's brother set her up on a blind date with Joe. During this period, Jill and Joe were undergoing difficulties in their separate lives. For Joe, it was only three years after losing her wife and daughters through a road accident. On the other hand, Jill was battling the pain of divorce. Jill and Joe tied the knot on 17th June 1977.
Jill Biden children
In 1981, she gave birth to a daughter by the name Ashley Blazer. She has two stepsons from Joe's first marriage named Robert Hunter and Joseph R. Beau Biden III. Unfortunately, Joseph passed away in 2015 after suffering from brain cancer.
READ ALSO: Will Smith bio: wife, children, movies, age, net worth
Career
Jill's career began as a high school teacher. Although she worked for five months at Joe's Senate office, a majority of her life was spent teaching different subjects in various high schools as well to other variously disabled children.
Her political career came across as a result of being the wife of Joe. Jill encouraged her husband to run for the presidency after George W Bush's win in 2004. She offered great support to Joe during his presidential bid in 2008.
In 2009, president Barrack Obama selected Joe Biden as the vice president hence making Jill the second lady of the United States. At this point, she relocated to the presidential residence in Washington DC where she began teaching at the Washington area community colleges. In January 2009, she was appointed as the professor of Northern Virginia Community College (NOVA).
As the second lady of the USA, her career continued to grow as she was tasked by president Barrack Obama to raise awareness of the importance of community colleges. In August 2010, during a guest appearance in one of the episodes of Army Wives, she created awareness on military families.
She worked together with the First Lady Michelle Obama in co-founding an initiative dubbed Joining Forces. The initiative was organized in a bid to understand and create awareness on the various needs of US military families.
For the very first time, she took an absence leaves for the North Virginia Community College in spring 2020. Jill Biden's 2020 spring semester break was in a bid to heighten her presence on the campaign.
Social works and books
Apart from working as a teacher, Jill has served as a social worker. She is the founder of a non-profitable organization dubbed Biden Breast Health Initiative (BBHI). The organization helps to create awareness for women across the nation on the different health problems associated with breast cancer. She is also the co-founder of the Books Buddies program as well as the Biden Foundation.
She is the author of the following books:
2012 - Don't Forget and God Bless Our Troops (with an audio recording)
2019 - Where The Light Enters: Building A Family, Discovering Myself
Jill Biden net worth
Jill's primary source of income is derived from her career in teaching. She earns $100, 000 from the Northern Virginia Community College (NOVA). However, her actual net worth is not publicly disclosed.
Social media
She is active on several social media platforms such as;
Jill Biden Twitter: @DrBiden
Instagram: @DrBiden
Facebook: @DrJillBiden
Apart from the political endeavours, Jill Biden photos are also present on some of these accounts.
Jill Biden has been of great help to the 47th Vice President of the United States of America. She has not neglected her career as an educator and helping various people in the nation through her foundations.
READ ALSO: Mike Pence bio: wife, children, net worth, accomplishments, net worth
Source: KAMI.com.gh