Mike Pence is an American politician and lawyer serving as the 48th vice president of the United States. How well do you know him out of office?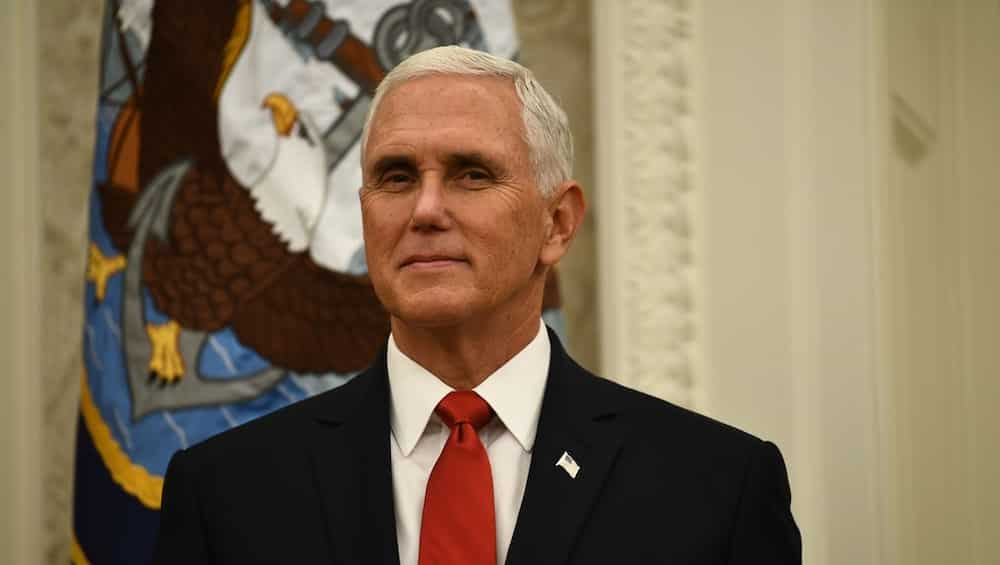 Pence was inaugurated as vice president of the United States on January 20, 2017. He had withdrawn his gubernatorial reelection campaign in July to become the running mate of Republican presidential nominee Donald Trump, who went on to win the presidential election on November 8, 2016. He has been building his political profile over the years, making people eager to find out more about his personal life.
Mike Pence profile summary
Full name: Michael Richard Pence
Nickname: Mike Pence
Date of birth: 7th June 1959
Place of birth: Columbus, Indiana, U.S.A
Mike Pence age: 60 years
Mike Pence birthday: 7th June
Nationality: American
Ethnicity: Mixed-race
Religion: Catholic
Height: 5 feet 9 inches
Weight: 72 kg
Hair colour: Blonde
Eye colour: Hazel brown
Marital status: Married
Profession: Politician, lawyer
Net worth: $1 million
Biography
Mike Pence was born as Michael Richard Pence on 7th June 1959 in Columbus Indiana in the United States of America. His father and mother are called Edward Joseph Pence Jr. and Nancy Jane respectively. His father was a U.S. Army veteran who ran a series of gas stations. Did Mike Pence serve in the military? He did not serve in the military even though both his grandfather and father were part of the military.
Mike graduated from Columbus North High School in 1977. He was a massive fan of the former president John F. Kennedy since he was brought up in a family with a political atmosphere. As a result, he enlisted for the Bartholomew County Democratic Party during his days in school.
Later on, he advanced his studies, and in 1981, Pence acquired a bachelor's degree in Arts from Hanover College. In 1986, he enrolled for a course in law at the Indiana University Robert H. McKinney School of Law.
READ ALSO: Will Smith bio: wife, children, movies, age, net worth
Mike Pence wife
Mike is married to Karen Pence. The two met at a mass in 1983 in St. Thomas Aquinas Church. During the time of their meeting, Karen was serving as the guitarist in church. The two went to Indiana States Fairgrounds for their first ice skating date.
Mike Pence children
Mike and Karen have been blessed with three lovely children; one son and two daughters. They have a son named Michael, and he works with the United States Marine Corp. The daughters go by the names Charlotte and Audrey. Mike Pence daughter Charlotte has written a book in conjunction with her mother titled; Marlon Bundo's: A Day in the Life of the Vice President
Career
After he graduated from Indiana University's Robert H. McKinney School of Law, he started his career as an attorney general in private practice. He unsuccessfully ran for the congressional seat in 1988 and 1990. In 1991, he became the president of the Indiana Policy Review Foundation but left after serving for two years.
In 1994, he became the host of Mike Pence Show, a talk radio program based in WRCR-FM in Rushville, Indiana. From 1995- 1999, he also became the host for a weekend political show from Indianapolis.
In 1988, he joined the Republican and ran for Congress against Democratic incumbent Phil Sharp, but he lost it. He quit his job in 1990 so that he would concentrate on becoming a full-time politician.
In the same year, he ran for the Congress but once again lost the seat. In 2000, he ran for the U.S. House Representatives and luckily, he won the place in Indiana's 2nd congressional district. He was re-elected in the same position in 2006, 2008 and 2010 after defeating Democrat Barry Welsh.
He worked as the chairman of the Republican Study Committee between 2005 and 2007. In 2012, he ran for the Republican nomination to become the governor of Indiana, and on 14TH January 2013, he became the 50th governor of Indiana. He ran for the same seat in 2016 and once again he emerged the winner. He worked as the chairman of the House Republican Conference from 2009 to 2011. In 2016 he was selected in the Republican Party vice-presidential selection.
Although the vice president of the United States holds a unique role of power as the Senate president as well as the next in line of the presidency, some American citizens seem not aware who holds this position. Mike Pence approval rating in 2019 indicated that more than 10% of the individuals surveyed claimed that they had never heard of him.
READ ALSO: Vanessa Laine Bryant bio: husband, children, age, net worth, pictures
Mike Pence accomplishments
MIke has an outspoken attitude and a conservative ideology that has enabled him to sail through several top ranks in the Republican Party. Here are some of his accomplishments;
2005 - Head in the Republican Study Committee
2011 - Governor of Indiana State
2016 - Elected as the vice president of the United States
Mike Pence net worth
His wealth is entirely based on the values of his pension. His pension from being the governor of Indiana State is valued at roughly between $500,000 and $2 million. As a vice president, he earns more than $230, 700 with awe-inspiring retirement benefits. However, his estimated net worth stands at $1 million.
Social media
The vice president of U.S. A is active on social media and here are the links to some of his accounts:
Mike Pence latest news
In the latest news, the president of the United States of America together with Mike Pence announced that they weren't going to be tested for Coronavirus. Speaking through the White House press secretary, the two said they had almost no interaction with the people who had tested positive for the virus.
President Trump will not be tested for the coronavirus after coming into contact with a Brazilian official who tested positive for the virus just days after participating in meetings with him in Florida, said the White House.
Fabio Wajngarten, who serves as one of the communications aides to the President of Brazil Jair Bolsonaro, tested positive. This was days after he accompanied his Excellency Mr. Jair Bolsonaro to Mr. Trump's Mar-a-Lago resort. They posed in a photo with the president and the vice president.
Both the president and vice president had almost no interactions with the individual who tested positive and do not require being tested at this time, said Ms. Grisham
With this statement of defence, the secretary made it clear that neither Mr. Trump nor Mr Pence has the intentions of self-quarantine as a precautionary measure.
With a passion for politics from as early as his years in school, Mike Pence has been making an upward movement in what he loves most. He has been in the American government in different positions over the years, but momentarily, he serves as the 48th vice president of the United States of America.
READ ALSO: Jun Ji Hyun bio: age, height, kids, husband