Roman Reigns bio: Real name, wife, net worth, illness, photos
Roman Reigns has made his mark in the world of wrestling. It is a sport that has attracted a lot of ladies as fans, and it is not difficult to see why. Most of the wrestlers are or have been bodybuilders at some point in their lives, and their biceps are out there for everybody to see. Roman Reigns can be said to be a poster-boy in this respect. With a well-built body and natural athleticism, he could never have been in a better profession. Mind you; he is not just a poster boy or a pretty face waiting for a cheque at the end of the month. He has made it to the very top in the wrestling world and proven that he belongs there more than once.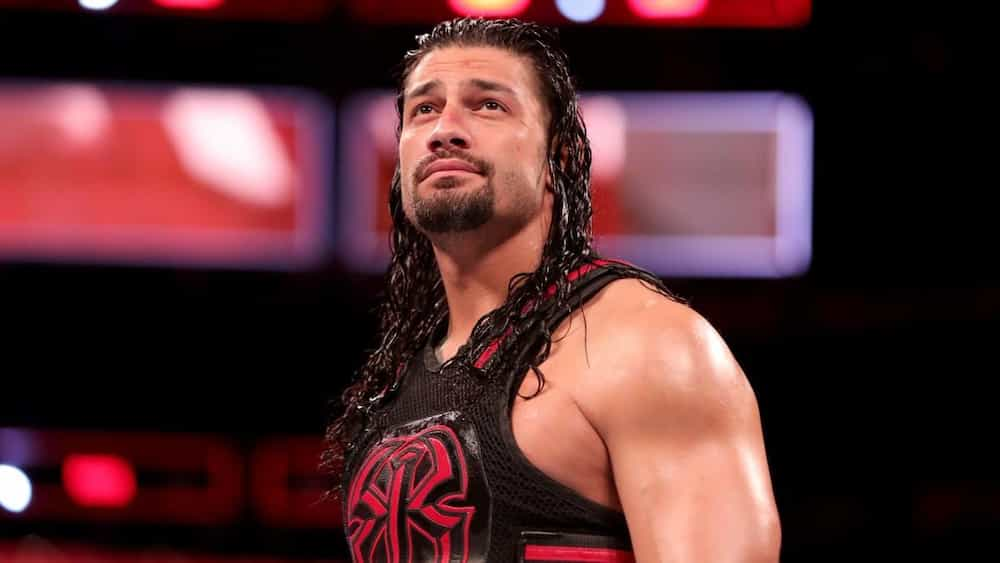 Roman Reigns comes from a wrestling family, so it is safe to say that what he does is in his genes. He has appeared in WWE Raw, Monday Night Raw, and the World Wrestling Entertainment (WWE). He has a certain charisma around him that makes people love him wherever he goes. As good as it may sound, he is very ruthless inside the ring.
He is a relatively new entrant in wrestling but has risen to a point he was once the face of WWE. That said, Roman Reigns had never intended to be a wrestler, to begin with. Surprisingly he used to be a Canadian Football League player before retiring and then setting his eyes on wrestling.
Roman Reigns profile summary
Roman Reigns real name: Leati Joseph Anoa'i
Nickname: Roman Reigns
Date of birth: May 25th, 1985
Place of birth: Pensacola, Florida, United States
Roman Reigns age: 34 Years
Nationality: American
Father: Sika Anoa'i
Mother: Patricia A. Anoa'i
Siblings: Rosey
Roman Reigns biography
Roman Reigns was born Leati Joseph 'Joe' Anoa'i to Sika Anoa'i (father), and Patricia A. Anoa'i (mother) in Pensacola, Florida, in 1985. He is an American professional wrestler who hails from the famous Anoa'i wrestling family.
He became famous through appearances on WWE Raw, Monday Night Raw, and WWE. Leati also played in the Canadian Football League as a collegiate footballer, but he retired from the sport in 2008 while the rest of the Roman Reigns family focused on wrestling. He then started training as a wrestler with his family before signing a deal with WWE.
His father used to be an American Samoan professional wrestler. He has an older brother, Matthew Anoa'i, who is famously known by his ring name Rosey. Roman Reigns brother Rosey died on April 17th, 2017 due to congestive heart failure leaving Roman as the only heir of the Sika. Leati went to Pensacola Catholic High School and then Escambia High School, where he was part of the school football team.
READ ALSO: Joel Embiid bio: Age, height, dating, net worth
Roman Reigns real name
He may have used names such as Roman Leakee or Roman Reigns, but those are not his real names. His birth names are Leati Joseph Anoa'i. His surname Anoa'i is his father's and from the Samoan heritage. Those close to him like to call him just 'Joe.' His ethnicity though, is half Samoan and half Italian.
Career
Roman was interested in football from his school days, unlike the rest of his family members who were in wrestling. He played in the football teams for both Pensacola Catholic High School and Escambia High School and won several inter-school competitions. The Pensacola News Journal named him the 'Defensive Player of the Year.'
While a student at the Georgia Institute of Technology, he became a member of the Georgia Tech Yellow Jackets Football Team. He captained the team in his senior year. In 2008, he joined the Edmonton Eskimos of the Canadian Football League. He retired football in the same year and moved on to wrestling.
In 2010, Roman signed a deal that saw him join WWE as part of the Developmental Territory Florida Championship Wrestling using the ring name Roman Leakee. He lost many of his early fights, but his fortunes changed when he teamed up with Dean Ambrose and Seth Rollins.
They formed a group called 'The Shield' and went on to win many consecutive six-man-tag-team matches. Reigns and Rollins won the WWE Tag team Championship, but 'The shield' split in 2014. As a single wrestler, he won the 'Battle Royal' and made it to the 'WWE World Heavyweight Championship' ladder match, which he lost to Randy Orton.
Roman Reigns WWE career has seen him win matches against the likes of Daniel Bryan, The Big Show, and Bray Wyatt. The highlight of his career was when he became the new WWE World Heavyweight Champion by beating Alberto Del Rio, Dolph Ziggler, Kevin Owens, Big Show, Cesaro and Dean Ambrose in the process.
Reigns lost the title five minutes later through a feud with Sheamus. He won the title again through a rematch. He has also won the United States Championship, Intercontinental Championship, and the Universal Championship.
Body measurements
Roman Reign's height is 6 feet and 3 inches, making him a staggering personality though far from the tallest in the WWE.
The wrestler weighs 120 kg (265 lbs) and wears shoe size 15 (US). His chest size is 50 inches wide, and the waist 35 inches while the biceps are 18 inches.
Roman Reigns wife
Roman Reigns married his long-term girlfriend, Galina Joelle Becker, a fitness model. The two had already dated for several years and were blessed with their firstborn daughter on December 14th, 2008. Romans Reigns and Galina Joelle Becker did not get married until 2014.
Their daughter was a flower girl at the wedding. Two years later, the family welcomed twin boys. Roman Reigns kids are currently three, and fans will be eager to know whether there will be another one coming.
Roman Reigns illness
In 2019, Roman Reigns revealed that he had been diagnosed with leukemia. As a result, he had to relinquish the universal title immediately and stop wrestling to focus on his health. Several months later, he returned to WWE and announced that the leukemia was officially in remission. With that, he made his return to wrestling.
The first time he was diagnosed with leukemia was in 2008 when he was 22 years old, but he quickly went into remission. Many fans have been touched by Roman Reigns story while others claim the star might have lied about his condition.
READ ALSO: Neil Arce profile: bio, age, family, girlfriends, net worth
Roman Reigns net worth
The star is a wealthy man who has been one of the top WWE stars. As far as careers are concerned, wrestling happens to be among the best paying in the job. That is why, in a career spanning a decade, Reigns is believed to be worth about $12 million.
Photos
He was once the face of WWE, and thus he is regarded as a big brand by himself. His photos can be found being used as wallpapers and screen savers by fans who adore the wrestler. Here are some Roman Reigns photos.
1. Life outside the ring
Roman Reigns does not just wrestle but also does many other things. One of the things he enjoys doing is engaging in projects targeting young children. This photo was captured when he was lending his voice for animation.
2. The charismatic champ
He is undoubtedly one of the most charismatic personalities in WWE. At some point, he used to make his entrance into the ring through the stands. He has always mixed freely with his fans, and they never get tired to show him their love.
3. Reminiscing football memories
Roman may have retired from the Canadian Football League, but that does not mean he stopped loving the game. He is still a huge fan, and whenever he has the time, he cannot resist the chance to watch a match and spectate his favorite team.
4. A wrestling family
Better believe it, both Roman Reigns and The Rock are members of the Samoan wrestling family. That is not just a name because the Rock and Roman Reigns are actual cousins. Their grandfathers were siblings, and thus the two talented stars share the same blood. Other relatives of Roman Reigns include Umaga and Yokozuna, among many others.
5. Noble course
The WWE star meant it when he said he would be helping those in need. He has been involved in several awareness campaigns as well as supporting those in need physically, financially, and emotionally. In this photo, he dedicated his time to spend with some young lads and encouraged them to believe in themselves to overcome their challenges.
In the years to come, the name Roman Reigns is among the many that would be remembered whenever wrestling is mentioned. The star came and conquered the world of wrestling, especially by forging a partnership and friendship with Seth Rollins and Dean Ambrose. An illness threatened to bring him down with the leukemia diagnosis, but in the end, he came out strong and has been a role model and source of inspiration for many.
READ ALSO: Kris Aquino: age, height, net worth, illness, scandal
Source: KAMI.com.gh