Spike Lee is an American-born actor, director, writer, and producer. He owns a production company dubbed 40 Acres, and a Mule Film works. Interestingly, he is one of the best film-making tutors.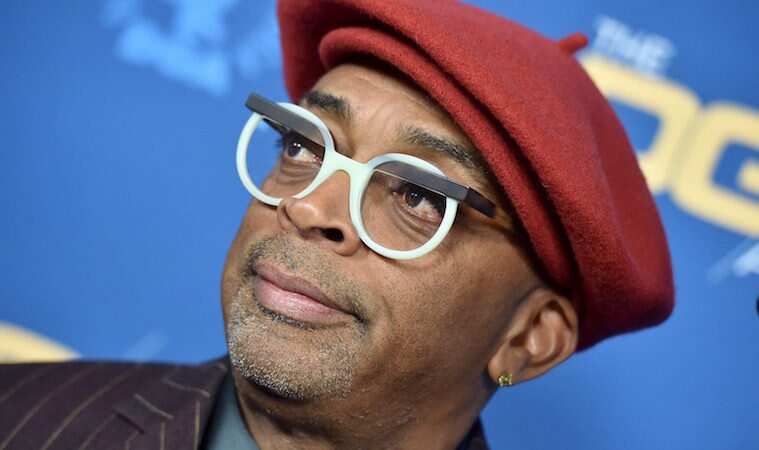 Spike Lee has appeared in several films as a producer and director. Most of his production offers strong statements on racism, class, gender, and inequalities. The films also make strong political statements, thus attaining awards in various nominations.
Spike Lee profile summary
Full name: Shelton Jackson Lee
Nickname: Spike Lee
Date of birth: 20th March 1957
Place of birth: Atlanta Georgia, U.S.A
Spike Lee age: 62 years
Spike Lee birthday: 20th March
Nationality: American
Ethnicity: Black
Height: 5 feet 6 inches
Profession: Professor, filmmaker
Net worth: $40 million
Biography
Spike Lee was born on 20th March 1957 as Shelton Jackson Lee in Atlanta, Georgia, in the United States of America. His parents are William James Edward Lee III (father) and Jacqueline Carroll (mother).
Spike has three siblings, a sister, Joie, and two brothers, David and Cinque. His family moved to Brooklyn, New York when he was still a small child.
Lee attended John Dewey High School and later enrolled in Morehouse College to pursue a B.A degree in Mass Communication. During his college years, Lee produced his first film dubbed Last Hustle in Brooklyn. After college, he joined Clark Atlanta University to undertake a film course. Later on, he joined Tisch School of Arts under New York University for a Master's in Fine Art in Film and Television.
READ ALSO: Gisele Bündchen bio - Who is Tom Brady's wife?
Spike Lee wife
Spike is married to Tonya Lewis Lee, a lawyer, businesswoman, and actor. Spike and Tonya fell in love in 1992 and tied the knot in 1993.
Spike Lee kids
The couple has two kids. Their first daughter, Satchel, was born in 1994 while the second son, Jackson, was born in 1997. The kids live with their parents in New York.
Career
Spike Lee serves as a professor, filmmaker, and music producer. Here are his career highlights over the years.
Professor
In 1991, he taught a film-making course at Harvard. In 1993, he began teaching at the New York University's Tisch School of Fine Arts in the Graduate Film Program. In 2002, he was appointed to serve as the Artistic Director at Tisch School of Arts. For now, he is a tenured professor at New York University.
Film making
Spike's career as a filmmaker began during his college days. Upon completing his masters, he began working on feature films such as She's Gotta Have It, which was critically acclaimed. In 1989, he released another film Do the Right Thing, and it was nominated under the Best Original Screenplay category in the Academy Awards.
With great success in these two films, he went on to write, produce, direct and act in many other films such as Summer of Sam, Jungle Fever, and Love and Basketball, among others. He also created documentary films such as 4 Little Girls which gained an Oscar nomination under the Best Documentary Feature category.
Spike Lee movies
Here are some of his movies:
1989 - Do the Right Thing
1988 - School Daze
1990 - Mo' Better Blues
1991 - Jungle Fever
1992 - Malcolm X
1994 - Crooklyn
1995 - Girls 6, Clockers and Get on the bus
1998 - He Got Game
1999 - Summer of Sam
2000 - Bamboozled
2002 - 25th Hour
2004 - She Hate Me
2006 - Inside Man
2008 - Miracle at St. Anna
2012 - Red Hook Summer
2013 - Old Boy
2014 - Da Sweet Blood of Jesus
2015 - Chi-Raq
2018 - Pass Over
Music production
Lee engaged himself in music video production for several famous artists such as Michael Jackson, Prince among others.
READ ALSO: Sheena Halili bio: husband, wedding, age, net worth
Spike Lee net worth
Being in the industry for such a long time, it is evident that he has accumulated some massive wealth. As of 2020, his net worth is estimated to stand at $40 million. This is evidence that hard work pays off as he has put great efforts from his young age.
Spike is a wealthy man all around as seen in the properties he owns. He earned a whopping $3 million from directing the 1992's Malcolm X. He owns a house located in New York City, which he bought in 1998 at $4.75 million. Spike Lee house has an estimated value of between $30 and $400 million.
Spike Lee awards
Spike Lee accomplishments can be counted in terms of his nomination and the awards he has won throughout his career. Here are some of the major awards in his name.
2016 - Honorary Award in Academy Awards
2019 - Best Adapted Screenplay in Academy Awards
2002 - Special Award in BAFTA Film Awards
2019 - Best Adapted Screenplay in the BAFTA Film Awards
2004 - Time Warner Innovator Award in the American Black Film Festival
2005 - Ossie Davis Award in Atlanta Film Festival
1997 - Honorable Mention in Berlin International Film Festival
2006 - Best Director in the Black Movies Awards
2001 - Best Film in the Black Reel Awards
2018 - Grand Prix in the Cannes Film Festivals
2003 - Honorary Cesar in the Cesar Awards
2007 - Outstanding Directing for Non-fiction Programming in the Emmy Awards
2007 - Exceptional Merit in Documentary Filmmaking
Latest updates
An issue arose between Spike Lee and James during one of the Knicks's games that were scheduled to take place at the Madison Square Garden. Knicks superfan attempted to enter into the garden using the employee's entrance which is against the rules of the garden. Spike claimed that he had been using the same entrance for more than two decades. Spike Lee Knicks' issue was eventually resolved.
Spike Lee stands out as one of the most special filmmakers. He is known not to jump to any story hence the reason he has done barely 50 projects, but whenever he picks one, Lee breaks the set records.
READ ALSO: Sarah Sanders bio: age, career, children, husband